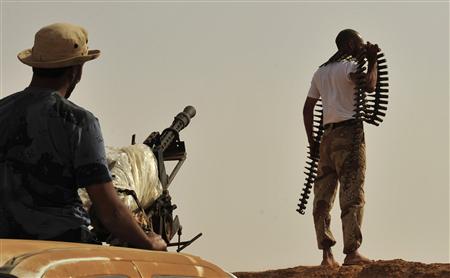 NATO was not involved in a French airlift of weapons to Libyan rebels, the alliance's chief said on Thursday, sharpening differences over how far Western powers should go to oust
Muammar Gaddafi
.
France
on Wednesday became the first NATO country to openly acknowledge arming rebels seeking to topple Gaddafi, who has resisted an uprising against his rule that has turned into the bloodiest of the "Arab Spring" revolts sweeping the region.
The French weapons airlift has ruffled diplomatic feathers, with some governments questioning whether it contravenes a United Nations arms embargo and goes beyond the terms of a U.N. resolution authorizing the use of force to protect civilians.
NATO Secretary General Anders Fogh Rasmussen, was asked by reporters on a visit to Vienna if NATO was involved in the French move. "No," he answered.
"As regards compliance with the U.N. Security Council resolution, it is for the U.N. sanctions committee to determine that," Rasmussen said.
China, a permanent member of the Security Council which has taken a cautious line on military intervention in Libya, weighed into the debate, though it stopped short of criticizing France.
"China urges the international community to strictly abide by the spirit of the relevant U.N. Security Council resolution and not take any actions that exceed the authority granted by that resolution," Chinese Foreign Ministry spokesman Hong Lei said when asked about France's action.
In the rebel-held city of Misrata, about 200 km (130 miles) east of Tripoli, six rockets landed early on Thursday in the Habara district, near the city's oil refinery and port. A Reuters journalist in Misrata said there were no casualties.
Britain's military said its Apache helicopters had attacked a government checkpoint and two military vehicles near Khoms, on the Mediterranean coast between Misrata and Tripoli.
Insurgents in the area say Gaddafi's forces are massing, and bringing up weapons, to quell an uprising in the nearby town of Zlitan, though this cannot be independently verified.
NATO'S DILEMMA
France said on Wednesday it did not break a U.N. arms embargo by airlifting weapons to Libya's rebels because the weapons were needed to defend civilians under threat.
Le Figaro newspaper said France had parachuted rocket launchers, assault rifles and anti-tank missiles into the Western Mountains region, southwest of Tripoli, in early June. A military spokesman later confirmed delivery of arms.
The French airlift highlights a dilemma facing NATO in Libya. If it sticks to the letter of the U.N. resolution, Gaddafi could hold on to power for months.
But if it takes a more pro-active role in helping the rebels, the already fragile coalition backing military action could fall apart.
At an Africa Union summit in Equatorial Guinea, AU Commission chief Jean Ping said arms going into Libya could end up in the hands of al Qaeda allies in the region.
"Africa's concern is that weapons that are delivered to one side or another … are already in the desert and will arm terrorists and fuel trafficking," Ping told reporters.
Even France's allies reacted cautiously. British Minister for International Security Gerald Howarth said he had no criticism of France's actions, but added: "It's not something we shall be doing."
The rebels, though, encouraged more arms deliveries. "Giving (us) weapons we will be able to decide the battle more quickly, so that we can shed as little blood as possible," senior rebel figure Mahmoud Jibril told a news conference in Vienna.
OIL HALTED
Gaddafi's aides say the NATO campaign is an act of colonial aggression aimed at stealing the North African state's oil.
They also dismiss International Criminal Court arrest warrants issued this week against Gaddafi and his son for crimes against humanity, saying the court is a tool of the West.
Gaddafi's government says NATO bombing has killed more than 700 civilians, although it has not presented evidence of such large numbers of civilian deaths and NATO denies them.
The conflict has halted oil exports from Libya, helping push up world oil prices to near $112 per barrel.
Rebel leader Jibril said it may take years for oil exports to resume. "No, no oil is being sold. A lot of the oil well system was destroyed, especially in the east," he said.
Even before news of the French weapons airlift emerged, fissures emerged in the coalition against Gaddafi. Some members have expressed frustration about the cost, civilian casualties, and the failure to achieve a military breakthrough.
Rebels in the Western Mountains advanced 30 km (19 miles) north toward Tripoli last week, but have since been held down by pro-Gaddafi forces around the town of Bir al-Ghanam, about 80 km short of the capital.
Misrata's rebels have pushed westwards out of the city but are blocked by government troops in Zlitan. In the eastern third of the country, rebel forces have been unable to advance west to the oil town of Brega.
TRIPOLI (Reuters) – By Lutfi Abu-Aun(Additional reporting by Hamid Ould Ahmed in Algiers; Fredrik Dahl and Michael Shields in Vienna, Chris Buckley in Beijing and London bureau; writing by Christian Lowe; editing by Mark Heinrich)