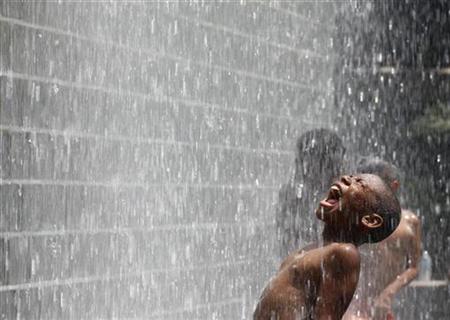 Sticky heat was expected to smother much of the country's midsection in the coming days as hotter-than-usual temperatures continued to roast parts of the Midwest and South, forecasters said on Sunday.Areas of
Kansas
,
Missouri
and
Oklahoma
were under excessive heat warnings with heat advisories issued for a large swath of the
central United States
, according to the
National Weather Service
.
The unrelenting heat in central and eastern states has led to a slew of "Heat Superlatives" in 2011, according to weather.com meteorologist Chris Dolce.
More than a dozen U.S. cities from Tallahassee to Minneapolis have seen all-time highs exceeding any temperature on record for any month, Dolce reported Sunday.
High heat put Reading, Pennsylvania, on the map for 106 degrees Fahrenheit — its hottest day since at least 1869 — and Childress in thirsty Texas hit the highest mark at 117, a temperature not seen since 1893.
Heat and humidity were forecast to continue with air temperatures and heat index readings climbing well into the triple digits for parts of the central United States at least through midweek.
"It's pretty incredible to just be locked into a pattern of this kind of dry heat for this long for the Southern Plains," said AccuWeather.com senior meteorologist Dan Pydynowski.
"There doesn't seem to be any relief in sight," he said.
For farmers like Bryan Burgess in Ashville, Alabama, this lack of relief from continued heat means more bad news for business.
Burgess said he has had to fire employees for fighting over air-conditioned tractors and trucks, which are slower and more prone to overheating.
"Heat brings out the worst," Burgess told Reuters on Sunday. "Some folks think that the upper 90s should not drive away or create problems for help. But, when you take a load of hay to put into a barn loft, the heat in the loft is 140 degrees.
"Do you know anyone who would do this type work?"
THIRSTY HORSES
Burgess' wife Leslie said her horses are drinking so much more than usual that she is seeing the difference in her water bill.
Even in places where high heat is typical for this time of year, the prolonged top temperatures are extreme.
Tennessee had heat indexes of over 100 Sunday, with triple-digit real temperatures to follow by midweek.
Dallas has reached or topped 100 degrees for nearly all of July.
"Yes, they are used to the heat, but to have this many days in a row of triple digit heat is extreme even for a hot place like Dallas," Pydynowski said.
The unrelenting stretch of hot, dry weather in Texas has sent an increasing number of people to emergency rooms for heat illness.
San Antonio paramedic Christopher Velasquez said too many people in Texas think they can handle the heat, and find out the hard way they cannot.
And just a day after Tropical Storm Don failed to produce much-needed precipitation over the rain-starved state, the next tropical system was developing in the Atlantic.
"All indications are that this will become Tropical Storm Emily at some point in the next day or two," Pydynowski said.
It remains too early to tell if the storm's projected path will move toward the United States, he said.
UPGRADE EXPECTED
The National Weather Service said the system has a "near 100 percent" chance of being upgraded to a tropical cyclone in the next 24 to 48 hours.
Sunday has already proven to be an active day in the current hurricane season as a simultaneous depression in the Eastern Pacific became Tropical Storm Eugene, the fifth storm named in that region this summer.
Both storms remained far out to sea and no coastal watches or warnings were in effect as of midday Sunday, according to the National Hurricane Center of the NWS.
Meteorologists predicted on Sunday afternoon that Eugene, gathering speed off Mexico's Pacific coast, could reach hurricane strength by late Tuesday.
The storm, 415 miles south of popular Mexican beach resort Acapulco, was not seen as likely to make landfall, according to the NHC.
In parts of Minnesota and the Dakotas on Sunday severe thunderstorms could stir up high winds, hail and the potential for a tornado to develop after similar storms Saturday night threw baseball-sized hail at the region, according to AccuWeather.com.
In New England, beach-goers were flocking to the shore to soak up sunny weather, but severe thunderstorms due to pour down on the Northern Plains on Sunday night will head for the Northeast on Monday, according to weather.com.
The thunderstorms forecast to hit from Maine to New York could bring winds up to 60 miles per hour.
Storm systems are set to dump heavy rain on much of the country in coming days, but are predicted to skip drought-ravaged areas of Texas and the Central Plains.
SAN ANTONIO (Reuters) – By Jim Forsyth(Additional reporting by Cynthia Barrera Diaz, Lauren Keiper, Peggy Gargis and Timothy Ghianni; Writing by Molly O'Toole; Editing by Jerry Norton)
(Additional reporting by Lauren Keiper, Peggy Gargis and Timothy Ghianni; Writing by Molly O'Toole; Editing by Jerry Norton and Maureen Bavdek)