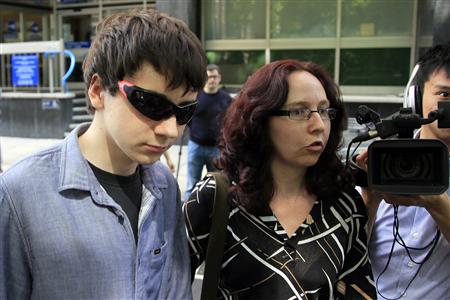 A teenager believed to be a leading member of the
Anonymous and LulzSec
online activist groups appeared in a
London court
Monday charged with hacking offences including an attack on
Britain's Serious Organised Crime Agency
.Eighteen-year-old
Jake Davis
, who goes by the online nickname of "Topiary," was charged with five offences under the Computer Misuse Act and other acts, including unauthorized use of a computer system.
Anonymous and LulzSec members have been arrested in the United States, Spain, Turkey, Britain and the Netherlands in a recent crackdown on attacks against targets including the CIA, Sony and Rupert Murdoch's media empire.
The arrest of "Topiary" in Scotland's remote Shetland Islands may be the most significant to date in the global effort to end the cyber-crime spree by the groups, who describe themselves as fighters for Internet freedom.
Davis was released on bail after agreeing to stay at his family home under strict terms. He will have no Internet access and will live under a curfew.
His lawyer said that while there may be evidence that Davis was linked to the group, there was no evidence to show he had taken part in any of the hacks. He is accused of being involved in attacks on Sony, SOCA, Britain's National Health Service and Murdoch's UK newspaper arm News International.
Many of the attacks have targeted organizations seen by the activists as enemies of free speech, such as EBay's PayPal online payment system, which stopped processing donations to WikiLeaks last year.
The UK Serious Organised Crime Agency (SOCA) took its website offline for several hours on June 20 after it appeared to be the victim of a distributed denial of service attack. LulzSec claimed responsibility for that attack.
Denial of service attacks work by overwhelming the target's Web servers with requests so that they can no longer respond, causing websites to freeze or crash.
LulzSec and its parent group Anonymous, loose online collectives of activists, have attracted widespread global media coverage for their stunts. LulzSec has more than 350,000 followers on Twitter.
The FBI raided six locations in New York last month and conducted searches in California as part of an investigation into Anonymous.
Anonymous also claims to have broken into Apple servers in July, after launching attacks in December that temporarily shut down sites of MasterCard and Visa using simple software available on the Internet.
LONDON (Reuters) – By Georgina Prodhan(Reporting by Georgina Prodhan)