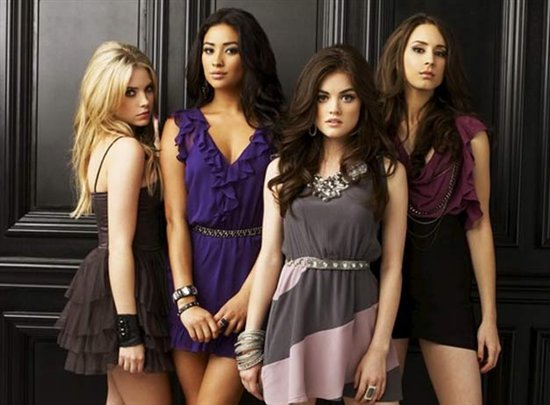 The hit TV show "Pretty Little Liars" helped ABC Family win an "excellent" rating on Wednesday for its portrayal of gay, lesbian and transgender people on television, the U.S. media group GLAAD said.
In its fifth annual report on the quantity and quality of gay images on TV, the Gay and Lesbian Alliance Against Defamation also named another youth-oriented channel — the CW — as the top broadcast channel in terms of LGBT inclusiveness.
Cable channels A&E and TBS received failing ratings for the fourth year in a row, with only five percent of their original primetime programing in the 2010-11 season including characters or situations that were fair and accurate portrayals of gays, lesbians, bisexual and transgender people, the GLAAD report said.
On ABC Family, by contrast, 55 percent of original prime time programing had LGBT inclusive images and some gay and lesbian characters also came from racial and ethnic groups.
"Programs like 'Pretty Little Liars' and 'Greek' have woven gay, lesbian, and bisexual characters into their stories in a way that mirrors the diversity of our community and the experiences of younger generations," said Herndon Graddick, senior director of programs at GLAAD.
"Viewers expect to see television environments that accurately reflect what it's like to be a young adult, and today that includes young adults who happen to be gay," Graddick added.
On the CW, shows like "America's Next Top Model" with flamboyant runway trainer Miss J Alexander, and teen drama "90210" which features several LGBT characters, helped the network to notch up 33 percent of inclusive programing.
Fox came second among the leading U.S. networks, thanks largely to gay friends Kurt and Blaine in musical comedy "Glee", and lesbian character Santana.
CBS — the most-watched U.S. network — was in last place with just 10 percent of LGBT-inclusive hours but the network raised its rating to "adequate" from "failing". That was partly due to bisexual character Kalinda Sharma on "The Good Wife" and the introduction a gay brother for Julianna Margulies' lead lawyer role.
GLAAD said the one area where all networks continue to struggle is in the representation of the transgender community. It said there were no regular or recurring characters on any networks monitored in this year's report.
LOS ANGELES (Reuters) -  (Reporting by Jill Serjeant; Editing by Bob Tourtellotte)