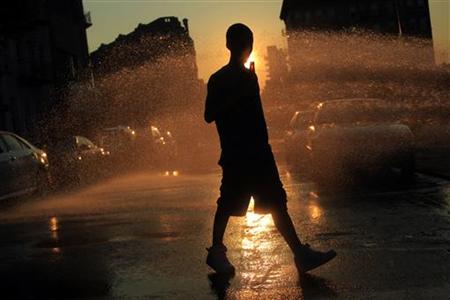 Children who are abused, lose a parent, or suffer other hardships may have increased risks of chronic health conditions later in life, a new study suggests.The study, of more than 18,000 adults from 10 countries, found that those who said they'd faced childhood "adversities" — like abuse, the death of a parent or a parent's alcohol or drug abuse — had higher risks of a number of medical conditions.
Those included heart disease, arthritis, asthma, diabetes and chronic back pain or headaches.
The same pattern was seen among people who said they'd suffered from depression, anxiety or other mental health conditions before the age of 21.
The findings, reported in the Archives of General Psychiatry, do not prove that serious stresses in childhood directly cause poor physical health later on.
But there are a number of reasons the two could be connected, said lead researcher Kate M. Scott, a psychologist and associate professor at the University of Otago in New Zealand.
"Early adverse experiences can shape people's behavior and lifestyle," Scott told Reuters Health by email. For example, she said, some people may end up smoking, drinking or over-eating as a way to deal with the stress of those childhood experiences, and the memories of them.
Similarly, Scott explained, young people with depression or other mental health disorders may learn to use smoking or drinking as a way to "self-medicate."
"So both early-life adversities and mental disorders may independently influence health-related behavior," she said.
But it's also possible that lasting and severe stress early in life has more-direct biological effects, according to Scott.
In times of stress, the body releases "stress hormones" like adrenalin and cortisol. That's fine in the short-term.
"But when the stress is ongoing, such as in long-term childhood maltreatment," Scott said, "then there can be health consequences of those hormonal responses being consistently elevated."
The findings are based on interviews with 18,300 adults from 10 countries, including the U.S., France, Germany, Italy, Japan and Mexico.
Scott's team found that participants who reported at least three childhood adversities had higher risks of all six physical health problems that the study assessed. In particular, they had twice the risk of heart disease, compared with men and women who reported no adversities.
Similar findings were seen among adults who said they'd had mental health conditions before age 21 — especially depression, post-traumatic stress disorder or panic disorder.
Their risks of heart disease, asthma, arthritis and chronic back pain or headaches were anywhere from 43 percent to 66 percent higher, versus adults who reported no early mental health disorders.
Current psychological conditions did not appear to account for the link: the study participants were screened for those, and there was still a connection between early mental health problems and later physical health problems.
The study has its limitations — including the reliance on people's memories and self-reports of health problems.
It also only looked at relative risks across large groups of people – in other words, comparisons, rather than the percentage of people who actually had a given condition. So the findings do not mean that any one person who suffered abuse or depression as a child is destined to develop heart disease.
For any one individual, Scott said, the increase in physical health risks could be modest.
But across a society, she noted, that could translate into a large impact, since these mental and physical health problems are all common.
"At least two-thirds of most populations will experience one of those chronic physical conditions at some stage in their lives," Scott said, "and a fairly similar proportion will experience a mental disorder at some stage."
She said people should recognize that mental well-being is an important factor in physical health as well. "So this is another important reason for individuals to seek mental health treatment if they are having ongoing problems."
NEW YORK (Reuters Health) – By Amy NortonSOURCE: http://bit.ly/pLO9dO Archives of General Psychiatry, August 2011.