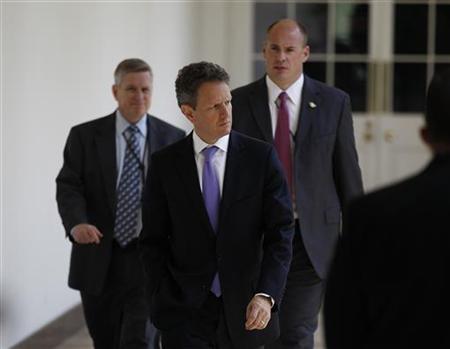 President
Barack Obama
has asked
Timothy Geithner
to stay on as Treasury secretary and a decision is expected soon, officials said on Thursday.Geithner had indicated he might leave once an increase in the U.S. debt limit was secured, a milestone reached this week after a long and rancorous debate that took the
United States
to the verge of a possible default.
Advisers said Geithner has not yet decided whether to depart but would likely come to a decision soon. Just two weeks away from his 50th birthday, Geithner has headed Treasury since January 2009, working at a hectic pace. He has been involved in all the major economic decisions by the Obama administration.
Both Obama and White House Chief of Staff William Daley have encouraged Geithner to stay, according to a senior administration official. One adviser said the officials have had numerous discussions on the matter.
Geithner has been weighing an exit from the administration to join his family in New York, where they are moving this month so that his son can finish high school there.
But there is a weighty agenda for the administration to deal with on the economic front, from how to manage budget savings promised as part of the debt-hike deal to potential tax reform — against the backdrop of a wavering, feeble recovery.
In an interview with ABC News taped on Monday, Geithner said he had not yet made a decision on whether to leave. Asked for an update on Thursday, Obama's spokesman Jay Carney said Geithner has offered the same message to the White House.
STILL A ROCKY ROAD
When Geithner took office, the economy was in perilous shape and the financial crisis in full swing.
As the head of the New York Federal Reserve Bank before joining the administration, Geithner was already deeply involved in battling the downturn. He is now the last member of Obama's original economic team.
Though the economy is in a recovery, growth is anemic, financial markets are queasy and acrimony between the administration and opposition Republicans on remedies has intensified.
Obama faces reelection in November 2012 and has an interest in keeping seasoned hands like Geithner on deck at a time the economy appears to be weakening.
With Geithner in place, the administration has a trusted hand familiar with the political battles. Geithner also has a close working relations with Obama.
"He's obviously a key member of the economic team, his service has been extremely valuable to the president, to the administration, to the country," Carney told reporters.
If Geithner left, the Obama administration would have to find a successor willing and able to withstand the potentially bruising process of winning Senate confirmation. Obama's opponents could use confirmation hearings as a forum to put the administration's policies on trial.
No obvious potential successor has emerged, but among names that have been mentioned are Gary Gensler, a former Treasury official who now heads the Commodity Futures Trading Commission, Erskine Bowles, who was chief of staff for President Bill Clinton, and Jon Corzine, a former CEO of Goldman Sachs and a former governor of New Jersey.
Daley, with a background in banking and as a former Commerce secretary in the Clinton administration, could also come under consideration, analysts say.
WASHINGTON (Reuters) – By Glenn Somerville(Additional reporting by Tim Ahmann; Editing by James Dalgleish)