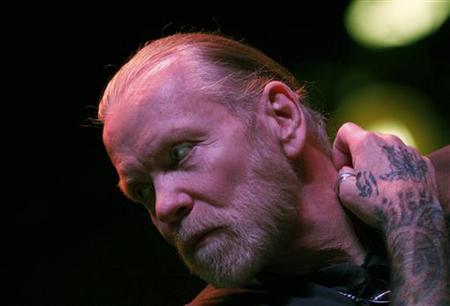 Gregg Allman, the southern rock legend and frontman for The Allman Brothers Band, has canceled a series of summer concerts due to a lingering upper respiratory condition, his representative said on Monday.
On doctor's orders, the 63-year-old veteran bluesman and member of the Rock and Roll Hall of Fame, was forced to cancel tour dates from August 26 – September 15. Some of the dates will be rescheduled for later in the year.
Allman, who battles Hepatitis C and has struggled with drug and alcohol addictions during his life, is recovering from a liver transplant last year. In June, he had to cancel four dates at the end of a four-week European tour.
"His doctor hoped that with rest he'd get better, but unfortunately the issue has persisted," Allman's representative said in a statement. "Treatment is going to involve several days of hospitalization and 4-6 weeks of bed rest at home."
Allman expects to return to touring in the late fall to support of his highly acclaimed "Low Country Blues" album, his first solo work in 14 years, his management said.
The Nashville-born singer, keyboardist and songwriter, who earned a spot in the Rock and Roll Hall of Fame in 1995, penned the hits "Midnight Rider" and "Whipping Post." The Allman Brothers Band, which was formed with his late brother Duane Allman, is known for its renditions of classic southern rock songs such as "Statesboro Blues" and "Black Hearted Woman."
His most recent tour comes on the heels of a July 27 benefit concert he gave on the eve of World Hepatitis Day. Allman suffers from Hepatitis C and is a spokesman for the Tune into Hep-C campaign.
The benefit, which starred The Allman Brothers Band, included Natalie Cole, the Grateful Dead's Phil Lesh, David Crosby, Graham Nash, and ZZ Top's Billy Gibbons. It raised over a quarter million dollars to support the American Liver Foundation and the National Viral Hepatitis Roundtable.
Allman also struggled with cocaine, heroin and alcohol problems through much of his adult life.
LOS ANGELES (Reuters) – (Reporting by Jason Kandel; Editing by Bob Tourtellotte)