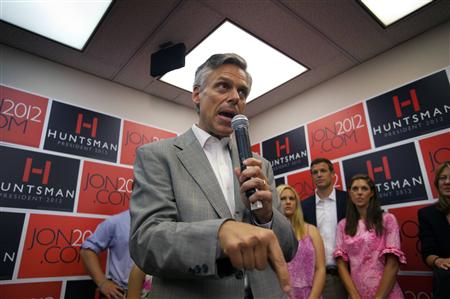 Republican presidential contender Jon Huntsman pilloried President
Barack Obama
on Wednesday, saying his former boss was "out of ideas" about ways to shore up the sagging economy and create more jobs."The American people have been pleading for leadership but their pleas are now falling on deaf ears," said Huntsman, speaking at an event in
Miami
aimed at invigorating the
White House
candidacy he launched in June.
"The president is out of ideas because everything he has tried, more spending, more mandates, more regulations, has only served to make things worse," he said.
Huntsman, who served as ambassador to China before quitting this year to run for president, said Americans, in addition to wanting "to rid the country of this cancer called debt," were united in wanting jobs and economic security.
"On these issues and more, the president has sadly failed us," he said.
His remarks were one of the most forceful critiques that the Republican contender has voiced of Obama.
"The people have had enough," Huntsman added later, when asked if he was saying that Obama was a failed president. "Economically, absolutely," he said.
"We're talking about the most fundamental issues of our time. That is addressing our economic woes, expanding the economy and creating jobs."
Huntsman, a former Utah governor who is seen as a moderate within the Republicans running for the right to challenge Obama in the 2012 election, has scored polls numbers in the low single digits. The field has yet to draw much enthusiasm from the party's rank and file.
He dismissed the polls as irrelevant at the Miami campaign event, as he sought to put the focus squarely on the economy and his ideas for fostering a return to U.S. growth.
Though Huntsman said he firmly opposed tax increases, he said tax reform and a closing of tax loopholes were key to any "pro-growth agenda."
"We've got a tax system that is 'chunk' full of loopholes," he said. "It's criminal that you've got some corporations not paying taxes like GE (General Electric) for example. That's got to come to an end."
He did not elaborate but was referring to controversy over GE's low 2010 U.S. tax bill. GE Chief Executive Jeff Immelt, Obama's liaison to the business community as chairman of the President's Council on Jobs and Competitiveness, has said the company tried to keep its tax bill as low as possible and did so legally.
Huntsman faces a difficult path to nomination in an increasingly conservative Republican Party, and many see his past work in the Obama administration as a liability.
MIAMI (Reuters) – By Tom Brown(Editing by Pascal Fletcher and Paul Simao)