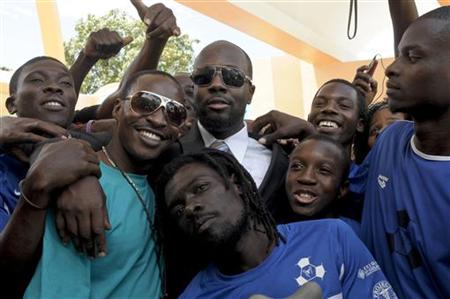 James Tabuteau has been living in a ramshackle tent camp in
Haiti
's capital since last year's catastrophic earthquake wrecked his home, struggling to find enough unskilled temporary work to feed his young family.But as one of the first graduates of a free vocational training program set up by Haitian-American hip-hop star
Wyclef Jean
's
Yele Haiti
foundation,
Tabuteau
is now a newly minted carpenter with hopes of rebuilding his life and his nation.
"The day of my graduation there was an engineer that was attending the ceremony who told me he was interested in hiring me. So I am now talking to them and I am confident I'll find the job. And they also know I was one of the best students," said Tabuteau, a 25-year-old newlywed with a baby son.
"Now I can have a stable job and you never know, I could soon have my own shop. That is my dream."
Yele Haiti has teamed up with several other organizations to help expand the skilled workforce that Haiti needs in order to recover from the massive January 2010 quake that killed up to 300,000 people and made hundreds of thousands homeless.
A class of 106 trainees graduated on July 29 in construction crafts such as carpentry, masonry and plumbing.
"Now, as a plumber I see my future differently," said 29-year-old Jean Luckson Louis-Jeune, a graduate who said he had never held a job before.
"I finished high school, but I did not have the means to enter a university. But one does not have to be an engineer, agronomist or doctor to be useful, the country also needs the professional I have become today," Louis-Jeune said.
Yele Haiti plans to offer training in other job skills in different regions as part of an effort to get survivors out of the tent camps — some 600,000 are still living there — and out of the abject poverty many endured even before the quake.
"I don't think charity can solve the problems of the Haitian people. We need to empower people so that they may be able to take their lives and their future into their own hands," Jean, who first gained fame as a member of the Fugees band, told Reuters.
Yele Haiti's chief executive, Derek Johnson, said those already working will be included in the training in order to improve their skills. A hospitality school will open in September in the southern port city of Jacmel, where tourism is a vital sector, he said.
ROVING AMBASSADOR
U.S. entrepreneur Michael Capponi, who is building a hotel and restaurant in Jacmel, is among several business operators who have promised to hire Yele Haiti hospitality trainees.
"We want to have well-trained staff to provide the best services possible to our clients," Capponi said.
The poorest state in the Western Hemisphere, chronically underdeveloped Haiti has earned a reputation as "a nation of NGOs" and its government officials have often complained they are left out of the planning and coordination among the myriads of non-governmental aid groups working there.
Jean's foundation has won praise from Haitian President Michel Martelly, a fellow musician whose election in March Jean enthusiastically supported.
Martelly, who has vowed to haul Haiti out of poverty, said a qualified workforce was essential to meet the expectation of investors in construction, tourism and other sectors.
"What Yele Haiti is doing is fully in line with what we want for the youth who need a profession in order to find sustainable jobs," Martelly told Reuters.
The president said Jean's foundation also had provided food, medical and educational aid in Haiti. He honored Jean last month for his humanitarian work and efforts to promote the country abroad.
Martelly re-appointed Jean as Haiti's roving ambassador, an honor first bestowed on him by former President Rene Preval. Jean resigned it and gave up his diplomatic passport last year when he himself tried to run for president in the election.
The Grammy-award-winning singer, who was born in Haiti, was not allowed to stand because he had lived most of his life in New York and was deemed not to have met residency rules.
"I will continue to promote Haiti, to get investors to come to invest in the country. As a humanitarian I want to see how we can continue to bring aid. Not aid in terms of charity, but aid that can help people aid themselves," said Jean.
PORT-AU-PRINCE (Reuters) – By Joseph Guyler Delva(Editing by Jane Sutton and Mohammad Zargham)