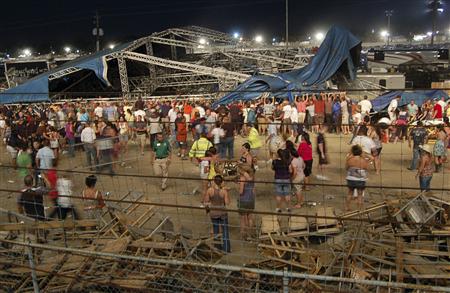 The
Indiana
State Fair was scheduled to reopen on Monday with a remembrance service set for 9 a.m., a fair announcement said, after a weekend tragedy in which five people were killed by the collapse of an outdoor concert stage in heavy wind.The disaster occurred on Saturday night and the fair had been shut down on Sunday.
More than 40 people were injured in the collapse just minutes before the country duo Sugarland was set to begin performing, Indiana State Police said.
"Today will be about grieving for and with the victims and about starting the necessary process of repair to get the fair back under way," Indiana Governor Mitch Daniels told CNN on Monday.
Concert officials had informed spectators prior to the show that the concert might have to be postponed due to the weather, but a strong gust blew the stage over before any official evacuation order was issued.
Asked whether more precautions should have been taken in light of the storm forecast, Daniels said: "Obviously everyone regrets the outcome here, but you know our first instinct in Indiana is not to go rushing around looking for scapegoats."
"I'm not saying that we're not going to find many things that could have been done differently. I'm only saying that I know the people who run this operation. They think safety all the time and I know that their hearts are broken that in this case this event took place as it did."
Daniels said separately on the CBS Early Show that while it was legitimate to ask whether the concert should have been canceled, nothing else on the fairgrounds had been affected by the blast of wind that hit the stage.
Some of the injuries from the disaster were extremely serious, and more people could die, State Police Sergeant Dave Bursten said at a news conference on Sunday.
State fire marshals and the Indiana Occupational Safety and Health Administration are investigating the collapse.
Spectators tried to hold up parts of the collapsed stage that fell into the standing area below to help anyone who might be trapped, eyewitnesses said.
Sugarland sent a Twitter message on Saturday night about the incident, saying: "We are all right. We are praying for our fans, and the people of Indianapolis. We hope you'll join us. They need your strength."
The Hoosier Lottery Grandstand at the state fairgrounds can seat more than 15,000 people.
A statement on the fair's website announcing the memorial service on Monday also said all gates would open at 8 a.m. for the general public and admission charges would begin at 10 a.m.
INDIANAPOLIS (Reuters) – By Susan Guyett(Additional reporting by Vicki Allen in Washington; Editing by Barbara Goldberg and Jerry Norton)