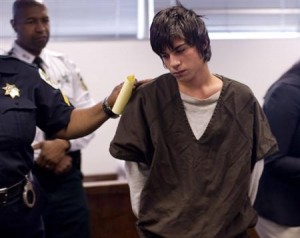 Florida police said on Wednesday they arrested a 17-year-old who had material to make pipe bombs at his home and had planned to attack and cause mass casualties at the Tampa high school that had expelled him.
"We were probably able to thwart a potentially catastrophic event the likes of which the city of Tampa has not seen and hopefully never will," Tampa Police Chief Jane Castor told a news conference.
Police named the suspect, who was detained and charged on Tuesday, as Jared Cano, 17, and said his target was Freedom High School in Hillsborough County.
Castor said Cano had hoped "to cause more casualties than were suffered at Columbine." In April 1999, two students at Columbine High School in Colorado killed 12 students and one teacher in one of the deadliest school massacres in U.S. history.
Tampa police, acting on an informant's tip, learned that Cano had planned his attack for the first day of classes next week, Castor said. Cano has been arrested in the past on various charges including burglary and carrying a concealed weapon, police said.
Police searched Cano's home and found pipe bomb material including fuel sources, shrapnel, plastic tubing and timing and fusing devices. They also found a journal with drawings of rooms in the school and statements apparently indicating his intention to carry out a deadly attack, authorities said.
"He was charged yesterday with threatening to throw, project, place or discharge a destructive device, possession of bomb-making materials and also cultivation of marijuana in his room, his house," Castro said.
Prosecutors said Cano had admitted he planned to discharge a bomb at Freedom High School when he was arrested. Cano had been expelled from the school, officials said.
A picture of Cano holding a machete is featured on his Facebook page, along with a quote that says "lessons not learned in blood are soon forgotten."
In his last posting on the page, on Tuesday morning, Cano said: "I just did the dumbest thing ever," but did not elaborate.
At a court hearing in Tampa on Wednesday morning Cano told the judge "I don't know what to say," according to local media reports. Cano was due to appear in court again for his arraignment on September 5.
TAMPA, Florida (Reuters) – (Reporting by Manuel Rueda; additional reporting by Tom Brown; Editing by Pascal Fletcher and Will Dunham)