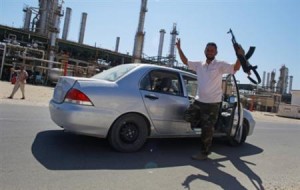 Libyan rebels took control of an oil refinery in the western town of Zawiyah and blocked the main highway north to the capital on Thursday, further isolating
Muammar Gaddafi's Tripoli stronghold
.Rebel advances in recent days have cut
Gaddafi
's forces off from their main resupply routes following a months-long stalemate, putting the Libyan leader's 41-year rule under unprecedented pressure.
Small groups of rebel fighters occupied the inside of the Zawiyah refinery complex, about 50 km (30 miles) west of Tripoli along the highway linking Tripoli to Tunisia, with no sign of the pro-Gaddafi forces that had battled for the plant.
"The battle (for the refinery) lasted for two days but the main battle was last night. We took control last night," said Saleh Omran, 31, a rebel fighter from Zawiyah who spoke to Reuters inside the refinery complex.
He said rebel forces battled about 150 Gaddafi troops, who later fled the seaside refinery in Zodiac boats.
Doctors at a hospital a few kilometers south of Zawiyah said nine people were killed and at least 45 injured in fighting around the town and at the refinery on Wednesday, most of them rebels, and said pro-Gaddafi forces had hit a house near the hospital with Grad rockets.
Rebels also controlled the town of Garyan, which sits about 80 km (50 miles) south of Tripoli on the main highway, a Reuters reporter there said, adding that rebels had placed a T-34 tank and an anti-aircraft gun taken from Gaddafi forces in the main square.
"We took one tank and an anti-aircraft gun from Gaddafi's forces. Next, we will go to Tripoli," said one of the fighters, who called himself Mohammad.
Rebel forces advanced several kilometers north of Garyan later in the day, clashing with pro-Gaddafi fighters. Black smoke billowed from the direction of the fighting and gunfire and the explosions of Grad rockets could be heard.
A spokesman for Gaddafi played down recent rebel gains and said the government remained in control of the country.
"This is a crisis that will last a few days and then it will be — God willing — overcome," said Moussa Ibrahim in remarks carried by JANA news agency on Thursday. "We will push ahead and until we liberate the whole country."
Gaddafi's whereabouts are unknown.
Aided by NATO bombers, assault helicopters and a naval blockade, the rebels have transformed the battle in the last few days after many weeks of stalemate.
The United States also deployed two more Predator drones for surveillance operations over Libya, a U.S. official said on Wednesday. It was unclear how many drones the U.S. already had over the country.
On the eastern front, rebel forces said they had tightened their grip around the oil town of Brega, but had suffered high casualties in fighting over the past several days.
"All of Alargop is now free, liberated," spokesman Musa Mahmoud al Mugrabi said of the area 6 km (4 miles) south of Brega, on a supply route for Gaddafi's forces running south.
"Casualties have been very high because it's urban clashes," he said. About 40 rebels have been killed and nearly 100 wounded in and around Brega over the past 10 days, according to a tally of reports from the rebels and hospital workers.
The 69-year-old Gaddafi seems isolated with rebel forces closing in and vowing to enter Tripoli by the end of the month. A Reuters reporter in Tripoli, which has been pounded by NATO warplanes for months, said a few explosions were heard from the center of town around midday.
A rebel spokesman said rebel forces were now outside a place called Hisha about 100 km (60 miles) west of Misrata on the road to Tripoli. "They are now on the coastal road," he said.
Zawiyah's refinery was one of the few sources of fuel for Gaddafi's troops and the people of Tripoli. Rebels said the plant was shut but showed no signs of serious damage as much of the fighting was with light weapons. A pipeline linking it to Tripoli was severed on Tuesday, a rebel commander said.
Rebel fighters stripped posters of Gaddafi from an administrative building inside the refinery complex and threw them to the ground.
Libya's Prime Minister Al-Baghdadi Ali Al-Mahmoudi on Thursday denied that the refinery was in rebel hands and called for a cease fire.
"In terms of the military, we are indeed powerful enough to finish this battle for our advantage, but the cost would be too high," he told reporters in Tripoli. The Libyan government has said repeatedly it welcomes a ceasefire but on the condition that it is preceded by a halt to NATO's air campaign.
Libya's rebel National Transitional Council (NTC) has denied holding secret talks with Gaddafi to end the war. But a former French prime minister, Dominique de Villepin, has met Libyan rebels and envoys loyal to Gaddafi in Tunisia for talks aimed at ending the war, a French newspaper reported on Thursday.

ZAWIYAH, Libya (Reuters) – By Ulf Laessing and Yvonne Bell(Additional reporting by Tom Miles in Geneva, Robert Birsel in Benghazi, Missy Ryan in Tripoli, Michael Georgy in the Western Mountains, Hamid Ould Ahmed in Algiers, Souhail Karam in Rabat; Joseph Nasr in Berlin, Phil Stewart in Washington; Ulf Laessing in Garyan; Writing by Richard Valdmanis; Editing by Giles Elgood)