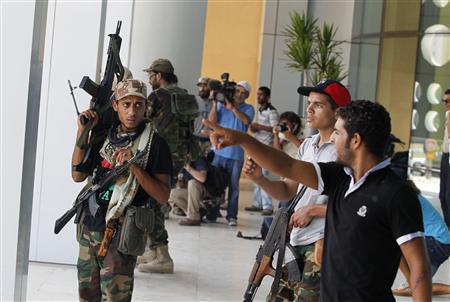 Libyan fighters battled diehard followers of Muammar Gaddafi across
Tripoli
on Thursday, racing to find and finish off the fallen strongman and stifle any counter-attack by his family and other loyalists.As machinegun bursts and the crack of sniper fire kept the capital's two million civilians pinned indoors, with supplies running low, one excited group of rebels said they thought they might have trapped Gaddafi and some of his sons in a building — though there was in fact no indication Gaddafi was inside.
"They are in a small hole," said one fighter, Muhammad Gomaa — but like many in the irregular forces that have overthrown the 69-year-old Gaddafi, he seemed to be expressing more hope than reality. "Today we finish. Today we will end that."
The sense of urgency extended to the new Libyan leadership, and to their Western backers, as they tried to unlock funds to bring relief and start rebuilding the country following six months of civil war and 42 years of Gaddafi's one-man rule.
"We need urgent help," Mahmoud Jibril, the head of the government-in-waiting, told Italian Prime Minister Silvio Berlusconi in Milan as Western leaders tried to persuade others at the United Nations to ease sanctions and a freeze on Libyan foreign assets that were imposed to punish Gaddafi.
Gaddafi's opponents fear that he may rally an insurgency, as did Saddam Hussein in Iraq, should he remain at large and, perhaps, in control of funds salted away for such a purpose.
Two days after his headquarters in the capital fell, loyalists still appear to control his tribal home city of Sirte on the coast and were reported to be fighting at Sabha in the south. Gaddafi broadcast a message on Wednesday calling on Libyans to fight back against the NATO-backed rebels.
Jibril said the uprising, the bloodiest so far of the Arab Spring, could fall apart if funds were not forthcoming quickly: "The biggest destabilizing element would be the failure … to deliver the necessary services and pay the salaries of the people who have not been paid for months.
"Our priorities cannot be carried out by the government without having the necessary money immediately," he said.
HUNTING GADDAFI
Rebel leaders, offering a million-dollar reward, say the war will be over only when Gaddafi is found, "dead or alive."
The ex-international high representative in Bosnia, Paddy Ashdown, told Reuters there was a need for speed if Libya's new rulers were to avoid a lingering threat from their predecessor, unlike what transpired in the former Yugoslavia and Iraq.
"The best time to capture these defeated leaders is immediately after the conflict finishes," Ashdown said. "The longer it takes the more chance they have of being spirited away to a place which is much more difficult to find."
With fighting raging in Tripoli, there was evidence of the kind of bitter bloodletting in recent days that the rebel leaders are anxious to stop in the interests of uniting Libyans, including former Gaddafi supporters, in a democracy.
A Reuters correspondent counted 30 bodies, apparently of troops and gunmen who had fought for Gaddafi, at a site in central Tripoli. At least two had their hands bound. One was strapped to a hospital trolley with a drip still in his arm.
All the bodies had been riddled with bullets.
Elsewhere, a British medical worker said she had counted 17 bodies who she believed were of prisoners executed by Gaddafi's forces. One wounded man said he had survived the incident, when, he said, prison guards had sprayed inmates with gunfire on Tuesday as the rebel forces entered Gaddafi's compound.
The French magazine Paris Match quoted an intelligence source saying Libyan commandos found evidence that he had stayed at a safe house which they raided on Wednesday. NATO was helping the rebels with intelligence and reconnaissance, Britain said, and its jets kept up their bombing campaign overnight.
"There are areas of resistance by the regime which has had considerable levels of military expertise, still has stockpiles of weapons and still has the ability for command and control," British Defense Minister Liam Fox told Sky News.
"They may take some time to completely eliminate and it is likely there will be some frustrating days ahead before the Libyan people are completely free of the Gaddafi legacy."
JOY FOR SOME
Nonetheless, many in Tripoli count themselves happy already that Gaddafi has gone. "I was nine years old when Gaddafi came to power and I've always hoped I wouldn't die before I saw this day," said Ali Salem al-Gharyani, choking back tears.
"I am now 50 years old and this is the first time, seeing Gaddafi gone, that I have experienced true joy in my life."
Medical supplies, never especially plentiful, were dwindling to critical levels in many places where some of the hundreds of casualties from the fighting were being treated. Shooting in the street also kept medics away from work.
"The hospitals that I've been to have been full of wounded — gunshot wounded," said Jonathan Whittall, head of the Medecins Sans Frontieres (MSF) mission to Libya.
"In one health facility that I visited, they had converted some houses next to the clinic into an in-patient department … But because of the shortage of staff, there was no nursing staff and the patients were essentially caring for themselves."

TRIPOLI (Reuters) – By Ulf Laessing and Peter Graff(Reporting by Peter Graff, Ulf Laessing, Missy Ryan and Samia Nakhoul in Tripoli, Robert Birsel in Benghazi, Hamid Ould Ahmed and Marie-Louise Gumuchian in Algiers, Souhail Karam in Rabat, Sami Aboudi, Dina Zayed and Tom Pfeiffer in Cairo, Giles Elgood, Christian Lowe and Maria Golovnina in Tunis, Silvia Aloisi in Milan, Tulay Karadeniz in Istanbul and Jon Hemming in London; Writing by Alastair Macdonald; Editing by Mark Heinrich)