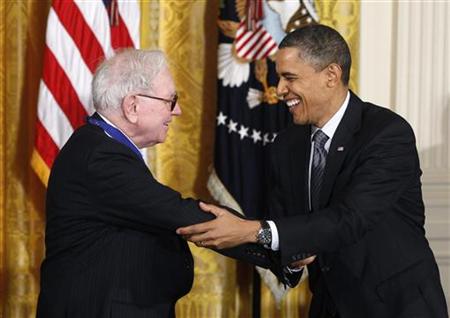 Billionaire investor and philanthropist Warren Buffett will boost President Barack Obama's re-election bid next month by appearing at a New York fundraiser that will charge as much as $35,800 per guest, the Obama campaign said on Thursday.
The September 30 fundraiser, billed as an Economic Forum Dinner and Discussion with Warren Buffett, signals the Berkshire Hathaway Inc. chairman's support for the Democratic incumbent. Obama spoke with the "Oracle of Omaha" for advice on Monday on how to invigorate the U.S. economy and spur job creation, a linchpin for Obama's re-election prospects.
Obama, with his approval ratings hovering at roughly 40 percent, is set to propose short-term measures to boost hiring and call on a congressional panel to deliver more than the $1.5 trillion in savings partly through increased tax revenue.
Former White House economic advisor Austan Goolsbee also will be at the fundraiser at the Four Seasons Restaurant in New York City, according to the event's invitation.
Tickets run $10,000 to $35,800 per guest. The top-dollar donation "includes VIP pre-reception with Warren Buffett," according to the Obama campaign website.
The cash will go the Obama Victory Fund, a joint account benefiting the President's re-election campaign and the Democratic National Committee.
Buffett has been a longtime Obama supporter, donating to the his campaign and the Democratic National Committee during the 2008 presidential race.
Buffett has supported Obama's policy decisions. Obama referred to an opinion column written by Buffett as he made the case to about 500 people at a town hall meeting in rural Minnesota last week that any attempt to close the U.S. deficit gap should include tax increases for the rich as well as spending cuts.
Buffett's New York Times piece was criticized by Obama's Republican challengers, such as Michele Bachmann, who suggested during a stump speech in Iowa that Buffett simply write a check to the federal government rather than subject the wealthy to higher tax rates.
CHICAGO (Reuters) – (Reporting by Eric Johnson; Editing by Bill Trott)