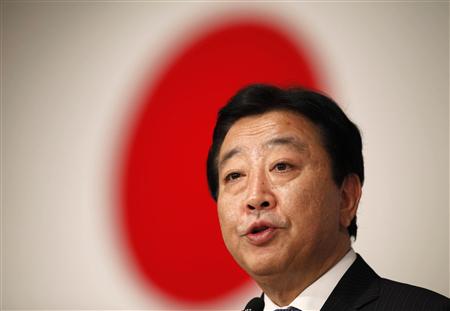 Japanese Finance Minister
Yoshihiko Noda
was chosen on Monday to become the sixth prime minister in five years, but he needs to overcome a divided parliament and deep rifts in the ruling party if he is to make more of a mark than his recent predecessors.Noda appears to be a safe pair of hands to lead the world's third-biggest economy but there are serious doubts whether he will have sufficient support to tackle
Japan
's myriad economic woes, lift it out of decades of stagnation and cope with a nuclear crisis.
The 54-year-old Noda, who defeated Trade Minister Banri Kaieda in a run-off vote in the ruling party, must deal with a resurgent yen that threatens exports, forge a new energy policy while ending the worst nuclear crisis since Chernobyl, and find funds to rebuild from the March 11 tsunami at a time when huge public debt has already triggered a credit downgrade.
"Noda has inherited all the same problems — a divided parliament, a divided party, a strong yen, a Tohoku (northeastern Japan) desperate for progress on reconstruction and an early end to the nuclear crisis," said Jeffrey Kingston, director of Asian Studies at Temple University's Japan campus.
"I think the honeymoon will be very short-lived."
No Japanese prime minister has lasted much more than a year since 2006 and most market players polled by Reuters this month thought the next government head would be no exception.
Noda, who will be confirmed by parliament on Tuesday, will be the third premier since his ruling Democratic Party of Japan swept to power in 2009, promising change.
Instead of a deep debate over how to jolt Japan out of decades of stagnation, the party vote turned into a battle between allies and critics of Ichiro Ozawa, a 69-year-old political mastermind who heads the party's biggest group even as he faces trial on charges of misreporting donations.
Kaieda, backed by Ozawa, got 177 votes in the run-off while Noda, supported by Ozawa critics, won the backing of 215 MPs. That suggests Ozawa will remain a divisive force, although his clout is less than it once was.
FRICTION WITH CHINA
Noda's rise to the top job could cause some friction with China after he recently repeated that Japanese wartime leaders convicted by an Allied tribunal after Japan's defeat in World War Two were not "war criminals" under domestic law.
He has also said China's rapid military buildup and expanding naval activities pose a serious regional risk, and stressed the importance of the U.S.-Japan security alliance.
The Chinese Foreign Ministry congratulated Noda on his appointment, but China's state-run Xinhua news agency set a brusker tone amid a sea dispute and deep-seated Chinese bitterness over Japan's military occupation before and during World War Two.
"Tokyo has managed its relationship with Beijing without due respect for China's core interests and legitimate demands for development," Xinhua said.
"The new Japanese government needs to start to appreciate the undisputed fact that a deeply troubled China–Japan relationship and dire mistrust would by no means serve the interests of either side.
"Furthermore, Japan needs to show enough respect for China's national sovereignty and territorial integrity, especially when it comes to matters concerning (the) Diaoyu islands" — the group of islets in the East China Sea that Japan also claims as the Senkaku islands.
Financial markets were little affected although a rise in the stock market was tempered since the prime minister in waiting has said Japan will need to raise taxes.
Bond markets however welcomed the choice of Noda, who among the candidates was the only one consistently calling for Japan to face painful reforms to curb its massive debt.
"Let's do the utmost to tackle what we have promised and if there's not enough money, we might ask the people to share the burden," Noda said before the party vote.
The finance minister, who knocked out telegenic former foreign minister Seiji Maehara — the favorite of ordinary voters — in the first round, injected a rare moment of levity into the tense event.
The jowly, stocky lawmaker compared himself to a "dojo" loach fish — an eel-like inhabitant of the deep.
"I do look like this and if I become prime minister, the support rate would not rise, so I would not call a snap election. A loach has its own abilities even though it cannot do as a goldfish does."
Optimists said that Noda's low-key style might in fact be what Japan needs now. "Just because the world never heard of him doesn't mean he doesn't command quiet respect," said Andrew Horvat, director of the Standfor Center in Kyoto.
"That is one of the qualities of a great Japanese leader … This is not a time for big talk and inappropriate actions."
One of Noda's big challenges will be seeking opposition help in parliament, where it controls the upper house and can block bills. He has floated the idea of a "grand coalition" with opposition rivals, but the two biggest rival groups are cool.
"We won't flat out oppose one. But realistically thinking, the likelihood of it succeeding is small and there are more factors that are likely to make it fail," Natsuo Yamaguchi, the head of the No.2 opposition party, the New Komeito, told Reuters when asked about the possibility of a coalition.
The main opposition Liberal Democratic Party, he added, wants to press for a snap election.
Noda has said Japan should not build new atomic reactors, effectively phasing out nuclear power over 40 years. But he wants to restart off-line reactors after safety checks to avoid a power crunch. Japan relied on atomic power for about 30 percent of its electricity before the Fukushima nuclear crisis.

TOKYO (Reuters) – By Linda Sieg and Yoko Kubota(Additional reporting by Tetsushi Kajimoto, Yoko Kubota, Leika Kihara and Kaori Kaneko; Editing by Nick Macfie)