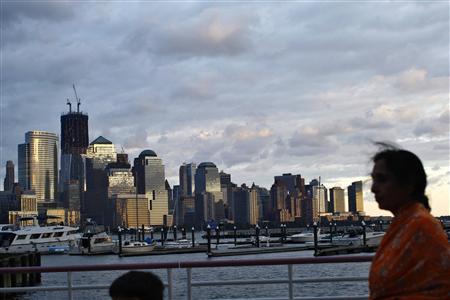 New York
City was slowly getting back to business as usual on Monday after Hurricane Irene but hundreds of thousands of people who normally travel in from the surrounding area faced a hellish commute as flooding knocked out some transit routes.Downgraded to a tropical and then a post-tropical storm, Irene pelted
eastern Canada
with rain and 50-mile-per-hour (80-kph) winds late on Sunday after killing 20 people in the
United States
. It cut power to 5 million homes and businesses and choked towns with floodwaters, especially in
Vermont and New Jersey
.
Financial markets were expected to open as normal, albeit with reduced volume.
New York subways and air travel at major airports slowly started to resume service but there were expected to be delays and overcrowding and commuter rail services feeding the city from the north and from New Jersey were out indefinitely.
Brian Pearson, 59, who works at the CBS television show called "The 22" and took the Long Island Railroad to Penn Station, said he was "fashionably late," but at least he made it. "The show must go on," he added, as he bought a coffee from a street vendor outside the station.
Those who could avoid public transport seemed to be resorting to driving. Traffic was unusually heavy on Manhattan's West Side Highway in the early hours, with cars nearly bumper-to-bumper at one point.
In one small, residential northern Manhattan neighborhood that is ordinarily well-served by the subway system, no fewer than 13 cars-for-hire were idling on the side of the road at 5:30 a.m., waiting for fares.
"It's too early," said driver Nelson Peralta, who was just getting back to work after staying off the roads Sunday.
Wall Street was largely unaffected by the storm as was Ground Zero, where the 10th anniversary of the September 11 attacks is soon to be observed.
TENNIS ON
The National Tennis Center in Queens escaped serious damage and the U.S. Open was due to start on Monday as scheduled. A football game between the New York Giants and New York Jets was also due to go ahead on Monday evening at the Meadowlands stadium in New Jersey, despite forecasts that flooding in the state could get worse in the coming days.
Suburban New Jersey and rural Vermont were hit particularly hard by flooding. Both states were inundated with rain after an unusually wet summer season left the ground soaked and rivers swelled even before the storm rumbled through.
"It's very serious for us at the moment in Vermont. The top two-thirds of the state are inundated with rapidly rising waters, which we anticipate will be an issue for the next 24 hours," said Robert Stirewalt of the Vermont Emergency Management Agency.
The state's many waterways were overflowing, prompting hundreds of evacuations, and some 40,000 to 50,000 people were without power. New Jersey Transit said most rail service would remain suspended until further notice, though some bus service would resume on a limited basis.
In New Jersey, Governor Chris Christie said "we dodged a bullet" after dire predictions failed to produce a catastrophe. But he urged people to stay home from work as the state recovered and pieced together its battered transit system.
"If you don't have to go to work tomorrow, don't go to work tomorrow," Christie told a news conference on Sunday. "Tomorrow is going to be a very difficult day to travel around the state of New Jersey."
UPDATE NEW YORK FLOODING
Parts of upstate New York were still experiencing severe flooding and Governor Andrew Cuomo urged residents of affected areas to follow the directions of emergency officials.
"I urge residents of the Schoharie Valley and near the Mohawk River to take extreme caution overnight and tomorrow. Follow the directions of local emergency officials. If ordered to evacuate you should do so without hesitation," he said in a statement issued overnight.
Rivers and streams in New Jersey were expected to peak over the next two days, reaching record or near-record flood levels because the ground was already saturated, officials said.
It was not immediately clear how much Irene would cost, but in New Jersey alone the damage was expected in "the billions of dollars," Christie told NBC's "Meet the Press."
With thousands of homeowners enduring flooding there will be questions over whether insurance policies offer cover and whether the federal government's flood program can handle the claims. All this came at a time of austerity in Washington and in cash-strapped states.
Eqecat, one of the three companies that provide disaster modeling for the insurance industry, said on Monday Irene "is a major event and will be responsible for significant levels of insured losses to property and people."
New York City's 8.5 million people are not used to hurricanes, but authorities took unprecedented steps to prepare, including ordering mandatory evacuations and a total shutdown of mass transit systems. That will have had a major economic impact.
About 370,000 city residents who had been ordered to leave their homes were told they could return on Sunday afternoon.
The New York Stock Exchange and broader U.S. marketplace are mostly automated, running quietly out of powerful data centers in New Jersey and elsewhere. Electronic trading is expected to function normally on Monday. But without full staffing, volume will take a hit.
"This is a slow week anyway, and if anything this will just result in lessened volume," said Randy Billhardt, head of institutional sales and trading at MLV & Co in New York.
COMMUTER HEADACHE
Grand Central Station was unusually quiet shortly after 6 a.m., with no Metro-North commuter trains arriving, but the subway was back in action.
Stephanie Lopez, 23, who works as a cashier at a midtown cafe, said she had started out a half hour earlier than usual to begin her commute from Woodside, Queens. She said seven trains were running less frequently than usual and were more crowded. "There were no seats," she said.
The Mass Transit Authority said it was restoring "near-normal service" on six of the lines on the Long Island Railroad, though it warned travelers to expect cancellations and shorter trains than usual.
Mayor Michael Bloomberg said there were no reports of deaths or injuries in the city, though there were some close calls. On Staten Island, firefighters with boats rescued more than 60 people including three babies from 21 homes flooded with 5 feet of water.
While it weakened before it hit New York, the swirling storm still packed a wallop, especially in districts such as the Rockaways peninsula, a low-lying strip of land exposed to the Atlantic Ocean on the southeastern flank of the city.
Four people were killed in Pennsylvania due to the hurricane, including two men killed by falling trees, a state official said. That brought to 20 the total number of people killed by the storm in addition to three killed in the Dominican Republic and one in Puerto Rico.
After Irene, weather watchers were keeping an eye on Tropical Storm Jose, which formed near Bermuda.
This year has been one of the most extreme for weather in U.S. history, with $35 billion in losses so far from floods, tornadoes and heat waves.

NEW YORK (Reuters) – By Edith Honan and Claudia Parsons(Reporting by Reuters bureaus throughout the East Coast; Editing by Christopher Wilson and Eric Beech)