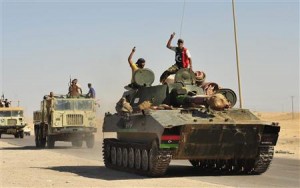 Libya
's interim leader on Tuesday gave forces loyal to deposed ruler
Muammar Gaddafi
a four-day deadline to surrender towns still under their control or face military force.As the hunt for Gaddafi himself goes on, Libyan officials accused neighboring
Algeria
of an act of aggression for admitting his fleeing wife and three of his children.
Algeria's Foreign Ministry said Gaddafi's wife Safia, his daughter Aisha and his sons Hannibal and Mohammed had entered Algeria on Monday morning, along with their children.
That stirred a diplomatic row just as Libya's interim council works to consolidate its authority and capture places still loyal to Gaddafi, notably the coastal city of Sirte.
"By Saturday, if there are no peaceful indications for implementing this we will decide this matter militarily. We do not wish to do so but we cannot wait longer," Mustafa Abdel Jalil, head of Libya's interim council, told a news conference.
Anti-Gaddafi forces have converged on Sirte from east and west, but have stopped short of an all-out assault in hopes of arranging a negotiated surrender of Gaddafi's birth-place.
Gaddafi has been on the run since his foes captured his Tripoli compound on August 23 and his 42-year-old rule collapsed after a six-month uprising backed by NATO and some Arab states.
GADDAFI "WENT TO SABHA"
Gaddafi was in Tripoli until Friday when he left for the southern desert town of Sabha, Britain's Sky News reported, quoting a 17-year-old bodyguard of Gaddafi's son Khamis.
It quoted the unnamed captured youth as saying Gaddafi met Khamis, a feared military commander, at around 1:30 p.m. on Friday in a Tripoli compound that was under heavy rebel fire. Gaddafi had arrived by car and was soon joined by Aisha.
After a short meeting, they boarded four-wheel drive vehicles and left, the bodyguard told a Sky reporter, adding that his officer had told him: "They're going to Sabha."
Along with Sirte, Sabha is one of the few remaining places in Libya where pro-Gaddafi forces are holding out.
A NATO spokesman said reports of talks over Sirte were encouraging, but said the alliance, which has kept up a five-month bombing campaign, was targeting the city's approaches.
"Our main area of attention is a corridor… (leading up) to the eastern edge of Sirte," Colonel Roland Lavoie, speaking from Naples, told a NATO briefing in Brussels.
Anti-Gaddafi officers have reported that Khamis Gaddafi and former intelligence chief Abdullah al-Senussi were both killed in a clash on Saturday. This has not been confirmed and the NATO spokesman said he had no word on Khamis's fate.
A spokesman for the National Transitional Council said it would seek to extradite Gaddafi's relatives from Algeria, which is alone among Libya's neighbors in not recognizing the NTC.
Nearly 60 countries have acknowledged the NTC as Libya's legitimate authority. Russia, China, India, South Africa and Brazil are among those which have so far withheld recognition.
Algeria's acceptance of Gaddafi's wife and offspring angered Libyan leaders, who want the ousted autocrat and his entourage to face justice for years of repressive rule.
Algeria is to close the southern part of its border with Libya due to the "precarious situation" there, Algeria's El Watan newspaper reported, citing diplomatic sources.
Abdel Jalil, the NTC chairman, called on the Algerian government hand over any of Gaddafi's sons on its wanted list.
"We ask the Algerian government (to ensure) that the presence of those people does not pose a threat to Libya and we hope they will be handed over when they are sought by justice."
Abdel Jalil, who was once Gaddafi's justice minister, said he expected the fugitives to move on from Algeria before long.
"MAJOR BLUNDER"
Algeria, which previously voted against sanctions and a no-fly zone against Gaddafi, has an authoritarian government which is anxious about Arab revolts lapping near its borders.
"I would argue the Algerian regime is making a major blunder, miscalculating monstrously," Fawaz Gerges, an analyst at the London School of Economics, told the BBC.
"The Algerian regime itself is not immune from the revolutionary momentum taking place in the Arab world."
A visit to a Tripoli beach compound used by Gaddafi's children and members of his elite revealed a life of opulence and privilege that many Libyans could barely dream of.
Saadi Gaddafi's chalet was strewn with designer clothes, including some unworn suits, and about 100 pairs of shoes. Aisha's house boasted 13 bedrooms and gold-plated cutlery.
Anti-Gaddafi fighters now sleep in the bedrooms of their former rulers, whose gated compound has tennis courts, football pitches and dining centers, along with magnificent sea views.
Many Libyans were overjoyed at the fall of Gaddafi, which followed that of longtime rulers in Egypt and Tunisia earlier this year, but have been chilled by evidence of mass killings in Tripoli as his forces fought losing battles with rebels.
A week after Gaddafi's overthrow, Tripoli's two million people remain without running water or electricity. Banks, pharmacies and many other shops are still closed.
Despite local clear-up efforts, the stench of rotting garbage and sewage pervades the city. Men in jeeps cried "Allahu Akbar (God is greatest)" as they toured neighborhoods, giving out containers of water from the Tripoli local council.
A council spokesman said a pumping station for Tripoli's water supply that lies in the pro-Gaddafi town of Sabha had been damaged. The big military force needed to escort a repair team of engineers was not available, he added.
However, a report by the European Union's humanitarian office (ECHO), said pro-Gaddafi forces in Sirte had cut two-thirds of the water supply to Tripoli, most of which comes from the "Great Man-made River," a huge project built under Gaddafi that pumps out water from under the Sahara desert.
"The valve allowing the transfer of 200,000 cubic meters (a day) from the Eastern system is in Sirte, and GF (Gaddafi forces) are keeping it closed," the ECHO report said.
Another 100,000 cubic meters a day was coming from 30 wells, but a lack of water had forced a shutdown of the secondary network serving rural areas around Tripoli. "Some suburbs have been completely out of water for the last three days," it said.
Some Tripoli residents were out shopping for food ahead of the Muslim feast that marks the end of the fasting month of Ramadan. Only small groceries and vegetable markets were open.
TRIPOLI (Reuters) – By Samia Nakhoul(Additional reporting by Mohammed Abbas in Tripoli, Maria Golovnina in Abu Grein, Alex Dziadosz in Nawfaliya, Robert Birsel and Emma Farge in Benghazi; Writing by Alistair Lyon; Editing by Jon Boyle)