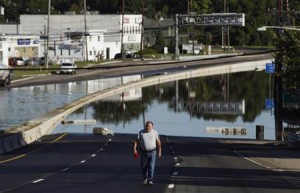 Emergency workers plucked dozens of residents from doorways and windows as Hurricane Irene's floodwaters rose on Tuesday, swallowing homes, submerging cars and turning the streets of this working class town into lakes.While Hurricane Irene's paralyzing rampage through the U.S. Northeast largely spared
New York
City, it caused the worst flooding in decades in inland areas of
New York
state,
New Jersey
and
Vermont
. The storm has been blamed for the deaths of about 40 people.
Search and rescue teams working in Paterson, New Jersey have pulled nearly 600 people from homes in recent days with the most intense efforts on Tuesday when the Passaic River measured 13 feet above flood stage, the highest level since 1903, said Paterson police Sgt. Alex Popov.
Firefighters rescued some by boat and the National Guard saved others by truck, taking them to a Red Cross shelter.
"Some are standing there in the doorway. Some are coming out of their windows," Popov said.
"It's raging," he said of the Passaic, which runs through the center of town, about 20 miles outside New York City.
Along the banks of the swollen, rushing brown river, residents sought to save what they could from homes submerged in waist-high water. Others stood along the river's edge, snapping pictures of the devastation.
"I'm from this area and this is the worst that I've seen here, the farthest up this water has come," said Peter Hennen, 63, who traveled from south Jersey to help his son, a homeowner in Paterson, rig up pumps to remove water.
"Everybody thought the (Jersey) shore was going to be devastating," he said. "But people here forgot about the media telling them the storm's 500 miles wide, so the rest of Jersey got hit."
Authorities expected the river to begin receding later on Tuesday.
Clear skies in the U.S. northeast aided rescue efforts, but hundreds of thousands of homes were damaged, some swept away by rivers already swollen by an unusually wet summer.
Irene hit North Carolina as a hurricane and moved north over major East Coast cities, then weakened to a tropical storm over New England and dissipated after tracking into Canada.
Some of the worst damage was not along the coast, but in towns located inland.
In Vermont, officials planned to airlift food and water to towns cut off by the floodwaters. Some 260 Vermont roads remained closed and the state was beginning to deploy crews of workers, backed up by the National Guard, to repair them.
Vermonters already beaten down by the prolonged U.S. economic slump saw homes and cars washed away, and were then faced with washed out roads that complicated their recovery from the state's worst flooding in more than 80 years.
"Economically, I'm devastated," said Betsey Reagan, owner of Dot's Diner in West Dover, Vermont. "Who knows what is going to happen? … We'll miss the (autumn) foliage season, who knows what the winter is going to be like? Tourists can't come if the roads aren't open."
The timing of the storm, at the end of summer and before the Labor Day holiday weekend, was particularly troubling for business owners whose peak season comes in the fall and winter when visitors flock to see forests turn color and for skiing.
The state planned to distribute food and water to towns cut off from supplies due to road outages. In some cases those supplies would be airlifted in, said Mark Bosma, a spokesman for the Vermont Division of Emergency Management.
"THE WORST ONE"
In New York City, the streets buzzed anew, the bustle slowed only temporarily by an unprecedented preemptive shutdown of its mass transit system and Saturday's evacuation order.
Utilities restored electricity to roughly half the 6.7 million customers who had power knocked out, and New York City mass transit and air travel crept back to normal.
The New Jersey suburbs were another matter. Train service returned to normal, but many commuters remained at home assessing damage to flooded basements, clearing out downed tree branches or, in the worse cases, waiting for waters to recede.
New Jersey Governor Chris Christie said flooding would likely continue over the next 48 hours.
"For members of these communities who have lost everything, relief cannot come soon enough for them," he said after a tour of the flooded area. "We can't fathom what these folks have been going through."
In Wayne, New Jersey, Mike Holland, 44, paddled his canoe away from his trailer home. The water was so deep that three cars were almost completely submerged on his street, which like several others resembled a small lake.
Holland said he was used to floods but that "this is the worst one."
"I had raised my trailer for the height of the 1984 flood plus 8 inches but this was the '84 flood plus 12. It's an easy fix but it's a pain," Holland said.
Marguerite Ball, another resident of Wayne, described the flooding as "heartbreaking" for the working class area.
"I've never seen flooding like has taken place in the last few years," Ball said. "People just get cleaned out, cleaned up, rebuild — and it happens again and again."
Two hours north, in Windham, New York, a town of about 1,700 known for its ski resort, the main street was swamped with deep muddy ditches, sidewalks had disappeared and debris was piled high.
"Where do you start?" said one National Guardsman, surveying damage in the heart of the ski town.
Irene killed around 40 people in 11 states, in addition to three who died in the Dominican Republic and one in Puerto Rico when the storm was still in the Caribbean, authorities said.
Total economic damage could reach $20 billion, said Standard & Poor's Senior Economist Beth Ann Bovino.
Hundreds of thousands of homes suffered damage, raising questions about how much would be covered by insurance as many homeowner policies do not cover flood damage.
President Barack Obama pledged aid for cash-strapped states and cities, but the federal money was not expected to cover all the costs for local jurisdictions already facing a fiscal crisis.
PATERSON, New Jersey (Reuters) – By Grant McCool(Additional reporting by Scott Malone in Vermont, Dave Warner in New Jersey, Dan Wiessner in New York, Joan Gralla in New York; Writing by Daniel Trotta and Paul Thomasch; Editing by Jackie Frank and Todd Eastham)