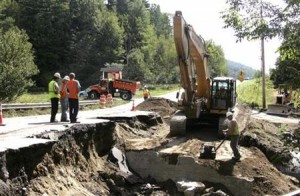 The
National Hurricane Center
says it successfully predicted Hurricane Irene's
North Carolina
landfall over the weekend and its destructive route up the
U.S. East Coast
.But if members of the Republican-controlled
House of Representatives
wielding the budget ax in
Washington
have their way, future accurate forecasting may not be guaranteed and even curtailed, critics including hurricane experts say.
Proposed cuts in the budget of the U.S. weather agency, the National Oceanic and Atmospheric Administration (NOAA), and in funding for new satellites to help improve severe storm warnings, could undermine the NHC's forecasting ability.
"There are certain people that think all we have to do is cut spending," Florida Senator Bill Nelson, a Democrat, told reporters in a visit to NHC headquarters in Miami on Thursday.
Nelson said that defunding NOAA programs that provide "hurricane hunter" aircraft for researching the intensity and track of hurricanes was "like cutting off your nose to spite your face."
Well in advance, the Miami-based hurricane center came within about 10 miles of pinpointing the location where the center of Irene came barreling across North Carolina's Outer Banks on Saturday in its first U.S. landfall.
This remarkable precision, especially given the massive size of the storm, has been credited with reducing costs by preventing unnecessary evacuations and other preparations, and probably saving lives.
The NHC also generally accurately predicted Irene's subsequent landfall locations in New Jersey and New York.
During Irene, NOAA's two P-3 hurricane hunter planes and a G-4 jet made repeated research flights into and around the storm, taking detailed dropsonde and Doppler radar measurements.
"BACKBONE" OF STORM RECONNAISSANCE
The measurements were fed into computer models and shared with crew members aboard a fleet of Air Force C-130 aircraft that also fly into hurricanes and are responsible for most of the operational aspects of weather surveillance missions.
Nelson warned that those crucial airborne soundings from the core of a storm, which greatly enhance the ability to make accurate forecasts, were in jeopardy because of the deficit-cutting campaign in Washington.
Cuts proposed by a committee of the Republican-controlled House include a 42 percent reduction in funding for NOAA's "hurricane hunter" planes, Nelson said.
Bill Read, the National Hurricane Center director, called the instrument-packed aircraft the "backbone" of storm surveillance and one of the big reasons the United States consistently does a much better job forecasting the track of a storm than any other country around the globe.
Nelson said there was also talk about possible Defense Department cuts to funding for the 10 C-130 Super Hercules "hurricane hunter" planes based in Biloxi, Mississippi.
He vowed that the proposed cuts would be halted in the Democratic-controlled Senate, saying the "hurricane hunter" program was about "saving lives and trying to lessen property damage."
Read compared the research carried out by the hurricane-chasing aircraft with "being able to do MRIs or CAT-scans. No other tropical basin in the world does that," he said.
"It is our only real tool to know exactly what's going on at the time we put out our advisory on the structure and the intensity of the storm," Read added, referring to the closely watched hurricane forecast updates issued by the Miami center.
MIAMI (Reuters) – By Tom Brown(Editing by Pascal Fletcher and Xavier Briand)