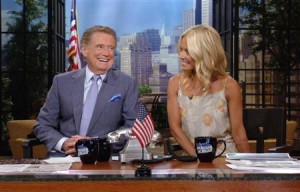 Television talk show host Regis Philbin on Tuesday announced the final day, November 18, for taping his "Live! with Regis and Kelly," ending his run on the popular program after nearly 28 years.
Philbin, who turned 80 years-old on August 25, said in January that this current season would be his last on the program, and on Tuesday he finally put a hard date on the end.
"Friday, November 18 is my last day," he told viewers of the program. "But don't worry, the show goes on."
There was no word on who will replace the popular octogenarian, but Philbin joked that co-host Kelly Ripa "will be trying out new" men and seeking a "new young hot" one to sit by her side.
Ripa joined Philbin in 2001, replacing his former co-host Kathie Lee Gifford. The duo of "Reege" and a female sidekick on "Live!" has been a winning combination over the years for the syndicated morning talk show.
"Live!" has a loyal audience that brings it good viewership during days, and the show has earned Philbin two Emmys for outstanding daytime talk show host. The announcer also has been given a lifetime achievement award by the Academy of Television Arts and Sciences, which gives out TV's top honors, the Emmys.
The show began in 1983 when Philbin created "The Morning Show" for WABC in his native New York City. Gifford joined him in 1985 and in 1988 the program gained national syndication.
Philbin also hosted the hit game show "Who Wants to be a Millionaire" when it debuted in the United States in 1999.
Philbin is the Guinness World Record holder for most time on camera, with more than 16,500 hours accumulated over his entire career.
"Live! with Regis and Kelly" is distributed by Disney-ABC Television Group, a division of Walt Disney Co.
NEW YORK (Reuters) – (Reporting by Bob Tourtellotte; Editing by Jill Serjeant)