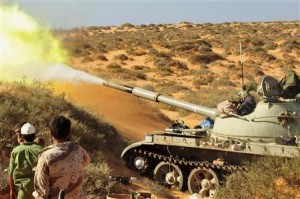 Muammar Gaddafi
resurfaced on the air waves to berate his enemies as rats and stray dogs and insist he was still in
Libya
to fight on, but he offered them no clues about where they could find him.His defiant comments to a Syrian TV station came as the forces of
Libya
's new government tightened a siege on the tribal
bastion of Bani Walid
, where some suspect the ousted strongman and two of his sons may be sheltering. In exchanges of fire, Gaddafi loyalists in the town launched Grad rockets.
In what Syrian broadcaster Arrai said was a telephone call from Libya early on Thursday, the 69-year-old Gaddafi, who was toppled by rebels two weeks ago after 42 years in power, rallied supporters and said surrender was out of the question.
"Our resolute Libyan people, the Libyan land is your own. Those who try to take it from you now, they are intruders, they are mercenaries, they are stray dogs. They are trying to seize our ancestral land from you but this is impossible.
"We will not leave our ancestral land," Gaddafi said.
"The youths are now ready to escalate the resistance against the rats in Tripoli and to finish off the mercenaries."
A Libyan military convoy which French and local military sources said entered neighboring Niger across the desert this week has stirred speculation that he might be about to flee.
But, in remarks which clearly indicated he was speaking after those reports were published, Gaddafi said: "This is not the first time that convoys drive in and out of Niger."
HUNTED
Gaddafi has not been seen in public since June and his whereabouts have been a particular mystery since rebel fighters overran his Tripoli headquarters two weeks ago, only to find that the main leadership had disappeared. Bani Walid, one of the few towns still in the hands of Gaddafi's followers, has refused to surrender despite a stand-off lasting over a week.
Officials from the interim ruling National Transitional Council (NTC) sent reinforcements after reports that Gaddafi had issued a call for the town to fight. The strength of resistance from an estimated 100 to 200 loyalists has made some NTC commanders think Gaddafi himself may be in the area.
A doctor treating NTC fighters said one had been wounded in clashes on the outskirts of the town overnight, while two among the defenders had been killed.
Abdallah Bin Qtanysh, an NTC military spokesman said: "We are pushing forward, we have encircled the city now, we are ready to go in to liberate Bani Walid. All roads into the city have now been blocked, no now can escape.
"Our leaders are now deciding what time we should go in."
Reuters reporters saw a convoy of NTC pickup trucks heading toward Bani Walid with dozens of fighters clutching rocket-propelled grenades and shouting anti-Gaddafi slogans.
Outside the town on Wednesday, residents making their way out under the blazing desert sun through an NTC checkpoint at the nearby settlement of Wishtata painted an increasingly desperate picture.
"People are terrorized," said Salah Ali, 39. "But many still support Gaddafi because they were paid by the regime, because many have committed crimes and are afraid of arrest."
Aid agencies have raised concerns about humanitarian conditions there and in the few other cities still under control of Gaddafi loyalists. Communications with them have been cut.
AFRICAN OPTION
The NTC has dispatched envoys to neighboring Niger to try to stop Gaddafi and his entourage evading justice by fleeing across a largely unguarded desert frontier.
The Pentagon said it had no information to indicate the fallen leader had left his North African homeland. Niger, which took in his security chief this week, insisted Gaddafi had not crossed its border.
The United States said it had also contacted the governments of Niger, Mali, Mauritania, Chad and Burkina Faso — a swathe of poor former French colonies that benefited from Gaddafi's oil-fueled largesse in Africa. The State Department urged them to secure their borders and to detain and disarm Gaddafi officials.
Gaddafi and his son and heir-apparent Saif al-Islam are wanted for crimes against humanity by the International Criminal Court, but Libyans say they want to put the them on trial first.
TRIPOLI (Reuters) – By Christian Lowe(Reporting by Mohammed Abbas, Christian Lowe and Alex Dziadosz in Tripoli, Sherine El Madany in Ras Lanuf, Maria Golovnina in Wishtata, Barry Malone, Sylvia Westall and Alastair Macdonald in Tunis, Ahmed Tolba and Edmund Blair in Cairo and Joseph Nasr in Berlin; Writing by Sylvia Westall; Editing by Alastair Macdonald and Mark Heinrich)