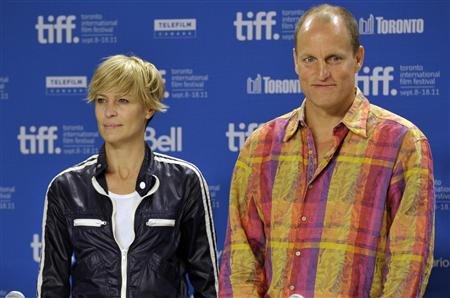 Woody Harrelson is winning praise for an intense performance as dirty cop in "Rampart", but the former "Cheers" star is trying hard not to dwell on the prospect of a third Oscar nomination."It's always nice to get an invite to the party, but we can't count on those things," he told reporters at the
Toronto
Film Festival. "I can't really think about those things. On the other hand I can't think about anything else."
"Rampart", which had its world debut at the Toronto International Film Festival on Saturday, reteams Harrelson with "The Messenger" director Oren Moverman. Harrelson received an Oscar nomination for that movie, playing a U.S. soldier who notifies families when their loved ones are killed.
The pair's latest film moves into starkly different terrain. Co-written by Moverman and "L.A. Confidential" author James Ellroy, it tells the story of Los Angeles police officer Dave Brown.
Nicknamed "Date Rape" by his colleagues for killing a serial rapist years before, the hard-drinking Brown finds his life spinning out of control in the midst of a wider corruption scandal.
With a combination of violence, charm and self-destructiveness, Harrelson's character is reminiscent of the corrupt police officers played by Denzel Washington in "Training Day", Richard Gere in "Internal Affairs" and Harvey Keitel in "The Bad Lieutenant"
But the 50 year-old Harrelson, who was also nominated for an Oscar with his portrayal of porn king Larry Flynt in 1996 movie "The People vs. Larry Flynt", said he had to put those other actors out of his mind.
"I didn't really try to stack myself up against Harvey Keitel or any of these other performances. If I were to think that way, I'd shoot myself in the foot before I got out of the gate because those are amazing performances," he said.
"To me it was just about coming to believe that I could be a cop. That was my hardest thing."
To achieve this, Harrelson spent time in patrol cars with Los Angeles police officers. He also lost 29 lbs, giving his pill-popping character a lean and hungry look.
Harrelson credits Moverman with the buzz that "Rampart" is receiving, saying the director is consistently aiming high.
But co-star Ben Foster, who also worked with Harrelson in "The Messenger", said the former sitcom star is humble about his talent and the work he puts into bringing a character to life.
"He's one of the most thorough actors. He's a national treasure," Foster said of Harrelson.
TORONTO (Reuters) – By Jeffrey Hodgson(Editing by Jill Serjeant and Bob Tourtellotte)