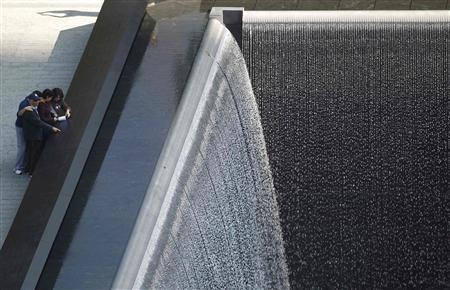 Thousands of people visited the National September 11th Memorial at the site of the World Trade Center on Monday after it was opened to the public for the first time.
Mayor Michael Bloomberg greeted the first visitors to the memorial, a tribute to the nearly 3,000 people killed in the attacks of September 11, 2001, and the 1993 Trade Center bombing.
The names of those who died in the attacks are inscribed into bronze panels that surround the edges of two acre-sized memorial pools that fill the so-called footprints of the fallen twin towers.
"New Yorkers, Americans and people around the world now have a beautiful, dignified place to pay tribute to the memory of the 2,983 men, women and children we lost in the tragic attacks of 9/11," Bloomberg said in a statement.
Tickets are free but reservations are required to enter the tightly secured site, and officials said the memorial was booked to capacity for the rest of the week.
Some 7,000 visitors had made reservations to visit on Monday.
Among those seeing the memorial for the first time was Deb Feldman, who escaped from the 44th floor of the Trade Center's south tower during the 2001 attacks.
"It was gorgeous, tasteful and respectful," she said after touring the memorial. "It was so much better than I had expected."
Ellie Ellsworth, 70, a native New Yorker, agreed.
"There was a sense of relatedness and community," she said. "It is the beginning of something new."
Hundreds of would-be visitors who showed up without reservations were turned away.
"Many were in town for 9/11 and weren't aware that they had to make reservations," memorial spokeswoman Sarah Lippman said.
Thousands of victims' family members saw the memorial for the first time on Sunday at a ceremony marking the 10th anniversary of the day hijacked planes struck the twin towers and the Pentagon and crashed in a field near Shanksville, Pennsylvania.
The names of every person killed in the al Qaeda attacks were read in the nearly five-hour-long event.
Lippman said cancellations, especially by victims' family members who visited on Sunday, were likely.
NEW YORK (Reuters) – (Reporting by Paula Rogo; Editing by Ellen Wulfhorst and Greg McCune)