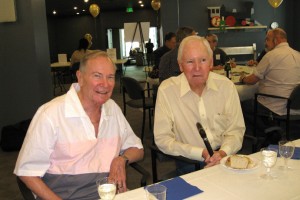 The 2011 Garden Party to benefit Gay & Lesbian Elder Housing will be held from 1 p.m. to 5 p.m. on Sunday, October 2, 2011 at the W Hotel- Drais Hollywood in Los Angeles, CA.  This will mark our tenth year of hosting this amazing event and we look forward to sharing some of the remarkable inroads that we continue to make in the welfare and happiness of our LGBT seniors.  As always, the event is open to the public.
This year's event will feature our special celebrity honorees:
Caroline Reid "PAM ANN" Glamorous, hilarious and outrageous Pucci-clad Pam Ann is the alter-ego of Australian comedienne, writer and producer Caroline Reid whose portrayal of the gutsy curvaceous air-hostess is unique in the world of comedy. She can be found selling-out every stage she hits â?? in 2010 performed at the prestigious London Palladium, The Royal Albert Hall to a sold out crowd.
Eric Garcetti- Los Angeles City Councilman President
As the third-term councilmember serving the 13th Council District, Garcetti has shown that a commitment to the street-level health of the community is a necessary first step in creating positive change. His unique combination of pothole politics and vision has won measurable results in the 13th District, showing how local solutions can show the way to make our city safer, create transportation solutions, and ease the city's housing crisis. Eric Garcetti is the President of the Los Angeles City Council
Ivy Bottini
Born in August 1926. She is an artist, a mother and a legendary activist, devoting over 40 years to the feminist & LGBT's struggle for civil & human rights. She is a founder of the first chapter of the National Organization for Women (NOW). She has fought to get funding and services for the sick and dying during the AIDS epidemic. Ivy originally conceived the idea of providing affordable housing for Gay & Lesbian Seniors – Which is now Gay & Lesbian Elder Housing.
FRENCHIE DAVIS
Frenchie was a Top 8 Finalist on NBC's mega-hit The Voice where she was personally selected by Grammy Award-winner Christina Aguilera to battle it out – vocally – on Team Christina. Davis quickly became a front-runner on the series, belting out powerful renditions. Ms. Davis made her mark on Season 2 of the reality-television show American Idol. Her stage presence, charismatic performances and power-house vocals cemented her as an audience and critic favorite nationwide. www.FrenchieDavis.org
SHAWN PELOFSKY- Host
Shawn has been entertaining audiences all over the world. This high energy female performs regularly all over the world entertaining the LGBT community. She has opened for great talents such as Richard Lewis, Robert Klein, Bill Maher and Margaret Cho. Also, just released on iTunes is her new hit album "LADY HAHA." Her T.V. credits include; Chelsea Lately (E!), The Gossip Queens (Logo), Byron Allen's Comics Unleashed (ABC), Comedy Coliseum (NBC), Minding The Store (TBS), Last Comic Standing and The Tonight Show.
Entertainment provided by: Upright Cabaret, Music by DJ Mark Bisson
Sponsors for this event include GREY GOOSE® Vodka, Miller Lite, Capitol Drugs/Power Zone, Silver Birches, W Hollywood, Mueller Design Incorporated, NBC Universal, Cory Franklin Associates, FusionExcel, Ervin Cohen & Jessup LLP; Smart Water, Sam S. Leslie, LEA Accountancy, Victor Kaminoff, Upright Cabaret
For information about the event, sponsorship or to purchase tickets, please visit www.gleh.org or contact
GAY & LESBIAN ELDER HOUSING at 323.957.7200
Email: info@gleh.org
Gay & Lesbian Elder Housing is a nonprofit organization dedicated to building and operating high-quality affordable, multicultural housing developments which include a community space used to provide social and recreational services for GLBT older adults. Our goal is to provide a safe, nurturing environment that supports the well-being of GLBT elders
LOS ANGELES, Sept. 19, 2011 /PRNewswire-USNewswire/ –SOURCE Gay & Lesbian Elder Housing
CONTACT: Ruben Diaz, +1-310-359-5247, Rubendz30@gmail.com; Mark Supper, Executive Director, +1-323-957-7200, msupper@gleh.org
Web Site: http://www.gleh.org