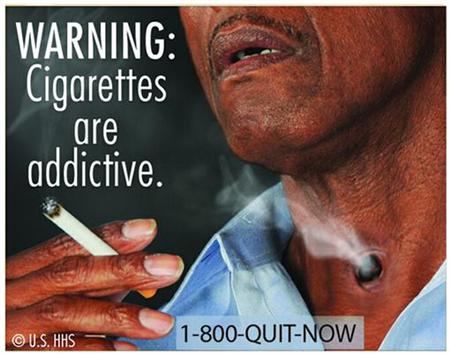 Cigarette makers clashed with regulators in U.S. federal court over new graphic labels and advertising that use pictures of rotting teeth and diseased lungs to warn consumers about the risks of smoking.The tobacco industry asked Judge
Richard Leon
on Wednesday for a temporary injunction to block the U.S. Food and Drug Administration's requirement for the labels, pending a final decision on whether the labels are constitutional.
The Obama administration argued, however, that the companies would not suffer irreparable harm without a preliminary injunction.
The labels are part of a 2009 law passed by Congress that requires color warnings on cigarette packages and on printed advertising, which already carry text warnings from the U.S. Surgeon General.
The industry says the new graphic warnings, due to go into effect by September 2012, force them to "engage in anti-smoking advocacy" on the government's behalf.
"Never before has the government required the maker of a lawful product to tell consumers not to buy it," said Noel Francisco, a lawyer arguing on behalf of R.J. Reynolds Tobacco Co.
"The government can tell people how to live," said Floyd Abrams, a prominent First Amendment specialist also representing the tobacco industry. "But they can't force people who sell tobacco to be their mouthpieces."
SHOCK VALUE
Francisco said the pictures were chosen for their shock value, and not because they reduced the rate of smoking or better informed consumers about its dangers.
"If you tell people what they already know over and over again, in flashy letters and big color pictures, it doesn't cause a reduction in smoking," he said.
Reynolds American Inc's R.J. Reynolds unit, Lorillard Inc , Liggett Group LLC and Commonwealth Brands Inc, owned by Britain's Imperial Tobacco Group Plc, sued the FDA over the labels.
They have argued they need a quick ruling because they would have to start in November or December and spend millions of dollars to comply with the requirements. Justice Department attorneys said the money was a small fraction of the companies' net sales.
Government attorneys also said the graphic labels conveyed the dangers of smoking more effectively than words alone, and were necessary to stop more people from smoking, especially teenagers.
"The government's interest here is not in preventing habits, it's in preventing death," said Mark Stern, a Justice Department attorney. "The advocacy here is to convey the negative health consequences of smoking. That's what Congress directed the FDA to do."
"The Constitution doesn't limit Congress to conveying information in a text-only format," he added, when Judge Leon questioned how far the government could go in presenting its message.
According to the Centers for Disease Control and Prevention, about 46 million U.S. adults, or 20.6 percent, smoke cigarettes. There has been little change in the percentage since 2004.
More than 221,000 Americans are expected to be diagnosed with lung cancer in 2011, according to the American Cancer Society. Tobacco is expected to kill nearly 6 million people worldwide in 2011, including 600,000 nonsmokers, the World Health Organization said in May.
Leon said he hoped to have a ruling on the preliminary injunction by the end of October, although any decision is likely to be appealed.
The case is R.J. Reynolds Tobacco Co et al v. FDA, U.S. District Court, District of Columbia, No. 11-01482.
WASHINGTON (Reuters) – By Anna Yukhananov