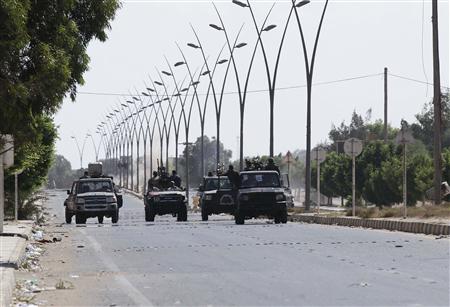 Libya's interim rulers said on Thursday they had further consolidated their control over Sahara desert towns that had been among
Muammar Gaddafi
's last strongholds, and said Gaddafi himself was running out of places to hide.But a spokesman for the fugitive Libyan leader told Reuters that forces with the new government had killed over a hundred people while trying to capture Gaddafi's birthplace of
Sirte
, though there was no independent confirmation of this.
Libya's National Transitional Council (NTC), the country's de facto government after Gaddafi was swept from the capital last month, is anxious to show that it is establishing military control over the country and can govern Libya effectively.
Progress has been slow in seizing the towns of Sirte and Bani Walid, with military ineptitude hampering the advance. Reuters saw one fighter blow his own head off and kill a comrade while handling a rocket propelled grenade.
If the NTC is unable to swiftly assert its control over the country and its own forces, it could embarrass Western leaders, especially France's Nicolas Sarkozy and Britain's David Cameron, who took a gamble by backing the anti-Gaddafi leadership.
"Our revolutionaries are controlling 100 percent of Sabha city, although there are some pockets of resistance by snipers," NTC military spokesman Ahmed Bani told reporters in the capital, Tripoli.
"This resistance is hopeless … They know very well that at the end of the day they will show the white flag or they will die. They are fighting for themselves, not for the tyrant," he said, referring to Gaddafi.
Until now some parts of Sabha, the traditional base for Gaddafi's own tribe about 800 km (500 miles) south of Tripoli, had been occupied by fighters loyal to him.
The council says its forces have now also taken control of Jufra, to the north-east of Sabha, and the nearby oasis towns of Sokna, Waddan, and Houn.
The NTC official said the manhunt for Gaddafi, in hiding for weeks though he occasionally issues defiant audio messages, was drawing closer to its target.
"There is no whole tribe or city on Gaddafi's side," said Bani. "I'm asking everyone in the south who has any news about the tyrant or his loyalists … to notify the legal bodies about them."
"We are doing our best looking for the tyrant. There is some news here and there that he ran away from Sabha to another place but it cannot be confirmed."
CLAIM OF CIVILIAN DEATHS
Despite support from NATO warplanes, government forces have struggled to capture Sirte, the biggest of the towns still outside their control.
Gaddafi's spokesman told Reuters on Thursday that NATO air strikes and interim government forces' shelling of Sirte were killing civilians.
"Between yesterday and this morning, 151 civilians were killed inside their homes as the Grad rockets and other explosives fell upon their heads," Moussa Ibrahim said in a satellite phone call to Reuters from an undisclosed location.
His claims could not immediately be verified as journalists are unable to reach the city. NATO comment was not immediately available.
But the account of casualties from Ibrahim, whose family is from Sirte, underlined the thorny problem the new government faces in taking Sirte, a city where there are still large numbers of civilians, including many whose sympathies lie with Gaddafi.
On the eastern side of Sirte, NTC forces came under heavy artillery attack more than 50 km (30 miles) outside the city. One fighter said Gaddafi artillery batteries appeared to have found the range of the NTC tanks, and were targeting them.
"There has been heavy shelling from Gaddafi forces," said Adel Al-Tarhouni, an anti-Gaddafi fighter in the village of Sultana, which came under artillery attack. "I was able to see palm trees cut from the top by the shrapnel."
A Reuters reporter on the western side of Sirte said hundreds of civilians in pickup trucks and sedans loaded with mattresses, food and water, were pouring out of the city.
At checkpoints, NTC fighters searched their vehicles to make sure they were not loyalist fighters, and then handed out juice, biscuits, water and yoghurt to the fleeing civilians.
Aid groups have expressed concern about deteriorating humanitarian conditions in Sirte, under siege by NTC forces.
"There is no water inside, there is no gas, there is nothing," said one resident, who declined to give his name, at a checkpoint as he drove his white sedan away from Sirte.
Fighters patrolling the outskirts of the city in pickup trucks mounted with machine guns and rocket launchers said there had been skirmishes with Gaddafi loyalists. They said they were waiting for civilians to evacuate before launching an assault.
"It's not a problem with the army. It's not a military problem," said Hishem, a fighter whose pickup was mounted with a 106 mm recoilless rifle.
"The problem is that there are families still inside. Getting them out is still the most important thing."
LACK OF Organization
North of Bani Walid on Thursday morning, NTC military forces were bringing forward tanks and Grad rocket launchers in preparation for a renewed attempt to take the town. It was not clear though when that attack would begin.
Later in the day, a Reuters reporter near the town said fighting had resumed after a lull, though it did not appear to be an all-out assault.
Gaddafi loyalists were firing shells at NTC positions on the edge of the town, and plumes of smoke could be seen rising up from within Bani Walid.
The offensive there has been frustrated by stiff resistance from well-drilled loyalist fighters, and also by a lack of organization among the NTC forces. They operate in disparate units based on their home town, with little overall command.
On Wednesday, one fighter shot his own head off and killed another fighter while handling a rocket-propelled grenade in full view of a Reuters team. In another incident, a fighter wounded himself and another fighter after losing control of his machinegun.
The nascent NTC national army tried to bring order.
"We have set up a unified operations room to unite all brigades," said brigade commander Omar Kabout. "The purpose is to increase coordination and end all this chaos because many rebels have arrived without commanders. We need to put them into brigades and stop all this random shooting."
But the message was not getting through to all the fighters, many of whom go into battle wearing flip-flop sandals, T-shirts and jeans and have no military training.
"We don't take orders from the NTC. We listen only to our own commander," said Ziyad Al Khemri, a fighter from the town of Zawiyah, just west of Tripoli.

SIRTE/NORTH OF BANI WALID, Libya – By Alexander Dziadosz and Maria Golovnina(Reporting by William Maclean, Joseph Logan and Emma Farge in Tripoli, Sherine El Madany east of Sirte, David Brunnstrom in Brussels, Barry Malone in Tunis, John Irish, Matt Spetalnick and Laura MacInnis at the United Nations; Writing by Christian Lowe; Editing by Giles Elgood)