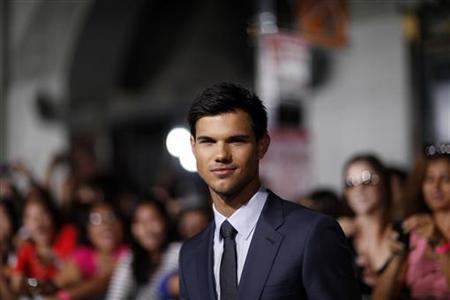 To legions of teenage girls and fans of the "Twilight" films,
Taylor Lautner
will always be known as
Jacob Black
, the werewolf who competes with a vampire for the love of a young woman.But on Friday, the boyishly handsome actor with the six-pack strong abdomen hopes to broaden his appeal to wider audiences, headlining movie marquees on his own for the very first time in action thriller "Abduction."
Lautner, 19, finds himself the sole person on the movie's poster with his name above the title — a major fete for any actor in Hollywood. And he must prove not only that he can draw audiences to box offices, but also that Lautner — like Cruise or Pitt or Clooney before him — can be a powerful brand name.
"Abduction" marks the inaugural film of his production company Quick Six, which he runs with his father, Dan Lautner, and the hope is that there will be many more to come.
"I'd be lying if I said I did not feel any pressure whatsoever right now," Lautner confessed to Reuters. "But I'm trying not to focus on that."
Directed by John Singleton, the film sees Lautner portray a teenager named Nathan who learns that his parents aren't really his and that his life has been a lie.
When he's targeted by trained assassins for reasons unknown to him, Nathan goes on the run with his neighbor Karen (Lilly Collins). While evading capture, he and Karen must piece together the truth of his life, while protecting themselves from certain death.
CHILD ACTOR GROWS UP
Though Lautner has been working consistently in films and on TV for over 10 years — including roles in "The Adventures of Sharkboy and Lavagirl 3-D" and "Cheaper by the Dozen 2" — he said it wasn't' until the media began buzzing about "New Moon," the second installment of the "Twilight" franchise, that he started being approached for other projects.
He was drawn to "Abduction" because he "fell in love with the character, the journey he went on, and I knew it would be challenging for me physically and emotionally."
Lautner — who is a martial arts champion — was eager to take on the stunts required for the action-packed movie.
"I was excited to use my martial arts and some of my athleticism in this, but there were some new things I had never done before," he said. "I never boxed before and motorcycling was new."
But acting is more than stunts, and Lautner said he found it challenging to relate to Nathan when the young character learns the life he has led is in fact, a lie.
"If that happened to me, I have no idea what I would do and that's exactly what Nathan is dealing with," said Taylor. "'Abduction' stretched me as an actor and challenged me emotionally way more than I've ever been challenged before."
In fact, Lautner said working on "Abduction" — which he shot before going back to work on "The Twilight Saga: Breaking Dawn (Part One)" and "Part Two" — made him that much better of an actor to return to the Jacob Black role.
Lautner said that in "Breaking Dawn," Jacob starts out as the same immature character viewers have come to know, but when he realizes the girl he loves has married the vampire, "he's forced to finally mature, to step up and be a man and deal with those emotions."
He said that with the "Twilight" movies now wrapped, "It's weird knowing that we're not going back to these characters we've lived with for the past four years.
"It was sad when we finished because we had all become so close. The biggest thing I've taken away are the relationships."
And Taylor's sentiments are not just confined to his co-stars, but to the "Twilight" fans, as well.
"I really do owe them everything," he said. "Those who have supported us for the last four years are the reason I was able to make this movie, so I definitely made 'Abduction' for them."
LOS ANGELES (Reuters) – By Zorianna Kit(Editing by Bob Tourtellotte)