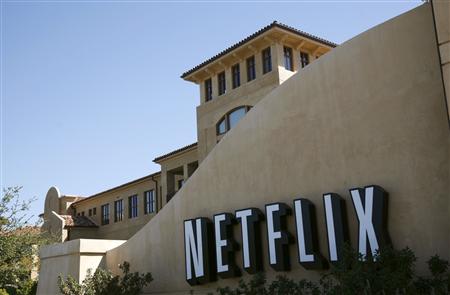 Missteps by
Netflix
Inc have opened the door to competitors seeking to grab disgruntled customers who are looking for new options for video rentals and instant online streaming.
Blockbuster
, the once-dominant video store chain that
Netflix
pushed into bankruptcy, wants to reclaim its crown. Now a unit of Dish Network Corp,
Blockbuster
is expected to announce its jump into the streaming market on Friday.
That would better position Blockbuster to compete with Netflix, which is now facing a subscriber backlash over a price increase for DVD subscribers and pressure from Hollywood studios to pay more for content.
Shares of the one-time Wall Street darling have plummeted 50 percent in two months. Netflix CEO Reed Hastings has apologized for failing to adequately explain his moves, and the company is trying to win customers back.
"It's the right time for Blockbuster," said Brean Murray analyst Todd Mitchell, who has a "buy" rating on Dish shares. "They are attached to Dish Network and they have distribution."
Blockbuster is gunning for unhappy Netflix customers with a free-trial offer. The company also advertises that it gets many new movie releases 28 days earlier than Netflix or Coinstar Inc's Redbox kiosks, another competitor that could benefit from Netflix's missteps.
Netflix sparked anger with a price increase as high as 60 percent, or $6 a month, for some DVD subscribers and by putting the DVD and streaming services on separate websites.
Last week, Netflix cut its subscriber forecast by 1 million, saying it now expects to have 24 million subscribers at the end of the third quarter. The last time Netflix reported a subscriber decline was the second quarter of 2007 when Blockbuster was aggressively pushing a DVD rental package called Total Access.
Redbox looks likely to gain customers from the outrage over the Netflix price increase, which took effect earlier this month, industry analysts said. The $1-per-DVD Redbox price may appeal to customers searching for a cheaper option without a fixed monthly cost, said Merriman Capital analyst Eric Wold, who has a "neutral" rating on Netflix and a "buy" on Coinstar.
While Netflix sees its future in streaming, "low-cost physical (disc) rentals continue to be popular," said Matthew Lieberman, who studies consumer attitudes toward video content for the entertainment, media and communications practice at accounting and consulting firm PwC.
A PwC study forecasts that kiosk rentals will grow for two years and then flatten due to rising popularity of video on demand.
800-POUND GORILLA
Netflix remains the industry heavyweight and has defended its strategy. Chief Financial Officer David Wells told investors on Wednesday the company remained well-positioned to take advantage of growth opportunities in the United States and abroad.
On Thursday, the company unveiled a feature that lets subscribers in Canada and Latin America share what they watch on Netflix with friends on Facebook. The feature will not be available in the United States because of a 1980s law the company said created confusion about what information can be legally shared about watching videos.
Off stage are other media and technology heavyweights that could make a big push into streaming, and the "for sale" sign hanging on popular online video service Hulu.
Recent Netflix challenges, including higher content costs, "has waken up the idea of competition. A lot of people could do it," said Hudson Square Research analyst Daniel Ernst, who has a "sell" rating on Netflix.
Amazon.com Inc has started beefing up its streaming video offerings and is among possible suitors for Hulu, alongside Google Inc, DirecTV Group and Dish. New bids are due this week, although sources familiar with the process said the auction could be derailed completely.
Hulu is owned by News Corp, Walt Disney Co, Comcast Corp's NBC Universal and private equity firm Providence Equity Partners.
Apple Inc, which sells video through iTunes, also could be a strong competitor if it made a big push into the streaming rental market, Morningstar analyst Michael Corty said.
"When you talk competition … we are in the early stages of that game," Corty added.

LOS ANGELES (Reuters) – By Lisa Richwine and Rachana Khanzode(Reporting by Lisa Richwine in Los Angeles and Rachana Khanzode in Bangalore; Editing by Andre Grenon and Steve Orlofsky)