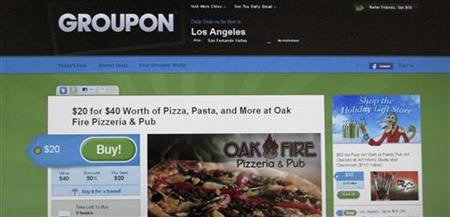 Daily deal website Groupon Inc is committed to launching an initial public offering but the exact timing remains uncertain, The Wall Street Journal reported on Sunday in its electronic edition.
The timing remains unclear because regulators have been reviewing the company's IPO documents more aggressively than was initially expected, the newspaper said, citing a person familiar with the matter.
The current volatility in the stock market is also delaying the company's move to launch its stock, the newspaper said.
Groupon was not immediately available to comment.
Groupon on Friday amended its offering documents to reduce reported revenue for 2010 to $312.9 million from $713.4 million, the newspaper said.
The amended filing also included parts of a letter written by Chief Executive Andrew Mason to employees earlier this month, the newspaper said.
The letter could be seen as a violation of regulatory rules that prevent companies from making public statements about their stock during the IPO process, the newspaper said.
Groupon also announced that its No. 2 executive, Margo Georgiadis, was leaving after five months to return to her former employer, Google Inc.
(Reuters) – (Reporting by Jessica Hall)