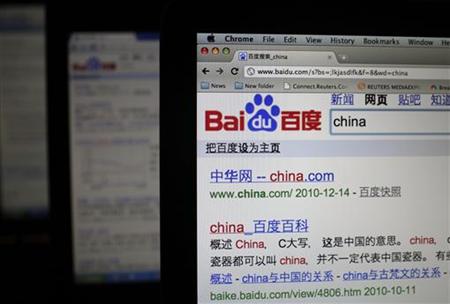 Mobile
operating systems
developed by
Asia
's top technology firms will at best only chip away market share from dominant leaders Google's
Android
and
Apple
's iOS.And such a scenario would only be possible if these companies, such as
China
's Baidu Inc and Alibaba Group are able to court enough application developers, analysts said.
"The challenge for Baidu, Alibaba, other firms looking to deploy their own mobile operating systems is how to develop and market one with sufficient appeal to users, app developers, device makers, and other parties," said Mark Natkin, Beijing-based technology consultant with Marbridge Consulting.
Baidu and Alibaba Group have launched mobile operating platforms named Baidu Yi and Aliyun respectively to capture a slice of the growing mobile Internet market.
Baidu is working with Dell to produce smartphones based on Yi, while Alibaba already has phones on sale running Aliyun.
China is home to more than 900 million mobile phone subscribers, the world's largest mobile phone market, but only about 10 percent are 3G users, highlighting the growth potential.
Media reports have said Taiwanese handset maker HTC Corp has expressed interest in buying a mobile OS, while Samsung Electronics, which is heavily focused on Android software, is expanding features available for smartphones running on its own operating system, Bada.
Android users have more than 100,000 Android applications to choose from, while Apple's App Store has more than 425,000 applications. In comparison, Samsung's Bada has access to 13,000 applications.
It is still early to determine the attractiveness of the platforms based solely on the number of applications available, but technology companies going into the space are keenly aware of the importance of attracting developers to their platform.
Earlier this month, Baidu's Chief Financial Officer told Reuters in an interview that her company was looking at acquisitions in the cloud computing space to support its push into the mobile arena.
"We will continue to improve our technology and if there are teams or are technologies that help us, that will naturally be our target," said Jennifer Li.
"Ultimately, we want to build a platform that is easily accessible – where Baidu services and where good applications can be available," Li said.
Alibaba will hold a conference this year to show developers how to create applications for its phone and discuss industry practices, a company spokeswoman said. Its OS, the Aliyun, currently has about 30 applications but its platform is compatible with Android applications.
LIMITED IMPACT
Many analysts are skeptical that the new mobile operating systems will be able overtake Android or Apple even in the long term.
"I do not see any of these guys getting enough traction to get significant market share. None of them will be able to go from nothing to a third of the market in just three years the way Android has," said Pat Maloney, an analyst with technology consultancy RedTech Advisors.
The new platforms will be competing against four major mobile operating systems — iOS, Android, and Microsoft's Windows and one by Research in Motion — whose combined market share will continue to remain at more than 90 percent until 2015, according to research firm Gartner.
Google announced a deal in August to buy Motorola Mobility for $12.5 billion, in a move to protect its Android platform from rivals such as Apple.
Any move by HTC to develop its own mobile OS is unlikely to have a big impact on Android, analysts said.
"In the long run, it gives HTC more flexibility; HTC can then revolve in its own pace, rather than being controlled by Android," said Richard Ko, a Taiwan-based analyst with KGI Securities.
"But it'll be very hard for HTC to compete with Android, which is such a large player and owns a complete ecosystem."
Android is expected to emerge as the top mobile operating system in China in the medium-term but the company's high-profile fallout with Beijing last year leaves the door open for Alibaba and Baidu, analysts said.
Many of Google's products such as YouTube, Blogger, Google Maps and Gmail are blocked or partially blocked in China following the dispute stemming from Google's refusal to self-censor searches.
"Apple and Google have said that the Asian market is important, that it is a key area of growth for them, so any competitors especially ones that have got specific regional focus and strong brands will be a kind of risk for them," said Nick Dillon, a London-based analyst with Ovum.
SHANGHAI (Reuters) – By Melanie Lee(Additional reporting by Clare Jim in TAIPEI, Lucy Hornby in BEIJING and Miyoung Kim in SEOUL; Editing by Kazunori Takada and Anshuman Daga)