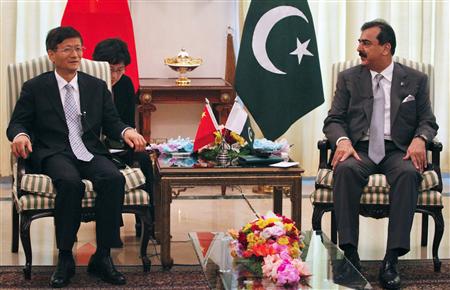 Pakistan
warned the
United States
on Tuesday to stop accusing it of playing a double game with Islamist militants and, facing a crisis in relations with its ally, heaped fresh praise on "all-weather friend"
China
.Prime Minister
Yusuf Raza Gilani
, speaking exclusively to Reuters, said any unilateral military action by the
United States
to hunt down militants of the Haqqani network inside
Pakistan
would be a violation of his country's sovereignty.
However, speaking from his office in Islamabad, he side-stepped a string of questions on the tense relations with the United States and offered no indications of any steps Pakistan might take to soothe the current fury in Washington.
The outgoing chairman of the joint chiefs of staff, Admiral Mike Mullen, last week described the Haqqani network, the most violent faction among Taliban militants in Afghanistan, as a "veritable arm" of Pakistan's ISI spy agency and accused Islamabad of providing support for the group's September 13 attack on the U.S. embassy in Kabul.
"The negative messaging, naturally that is disturbing my people," Gilani said in the interview. "If there is messaging that is not appropriate to our friendship, then naturally it is extremely difficult to convince my public. Therefore they should be sending positive messages."
Since Mullen's comments, Pakistan has launched a diplomatic counter-attack, and attempted to drum up support from its strongest ally in the region, China.
Pakistani officials have been heaping praise on China since its public security minister arrived here on Monday for high-level talks.
"We are true friends and we count on each other," Gilani said in separate comments broadcast on television networks after talks with Meng Jianzhu on Tuesday.
The military, Pakistan's most powerful institution, also said it appreciated its giant Asian neighbor's support. Army chief General Ashfaq Kayani thanked Meng for China's "unwavering support".
China and Pakistan call each other "all-weather friends" and their close ties have been underpinned by long-standing wariness of their common neighbor, India, and a desire to hedge against U.S. influence across the region.
"They (the Pakistanis) are trying to use their diplomatic options as much as possible to defuse pressure on them. They hope China will help them in this crisis," said security analyst Hasan Askari Rizvi.
SLIM ACHIEVEMENTS
Asked why the United States had suddenly ratcheted up its criticism of Pakistan, Gilani implied that it reflected Washington's frustration with the war in Afghanistan ahead of a withdrawal of U.S. troops from the country in 2014.
"Certainly they expected more results from Afghanistan, which they have not been able to achieve as yet," he said. "They have not achieved what they visualized."
Rejecting allegations that Islamabad was behind any violence across its border, he said: "It is in the interest of Pakistan to have a stable Afghanistan".
The United States has been pressing Pakistan to attack the Haqqani network, which it believes is based in North Waziristan near the Afghan border. Sirajuddin Haqqani, the head of the group, says it is no longer based in Pakistan and feels safe operating in Afghanistan.
Analysts say Pakistan sees the Haqqanis as a counterweight to the growing influence of rival India in Afghanistan and is highly unlikely to go after the group.
The United States seems frustrated at its inability to influence Pakistani policy on militants.
In a meeting with her Chinese counterpart, Yang Jiechi, at the United Nations on Monday, U.S. Secretary of State Hillary Clinton urged Beijing to open a dialogue with Washington on Pakistan.
"We have stated this before, but there's clearly an urgency given recent developments and also given the close relationship that exists between Pakistan and China," a State Department official said in a briefing to reporters.
CHINA MORE POPULAR
China is vastly more popular in Pakistan than the United States, which is seen as fickle and favoring India.
Much of the Pakistani public believes that since the end of the Cold War, the United States has tilted toward India, which has fought three wars with Pakistan since the violent partition of the subcontinent in 1947.
In a demonstration of that distrust, hundreds turned out on Tuesday for anti-American rallies in Pakistani cities.
In Hyderabad, they burned pictures of U.S. President Barack Obama and Mullen, while in Karachi they protested in front of the U.S. consulate and the headquarters of the Pakistan People's Party. In Landikota in the Khyber agency near the Afghan border, about 1,000 people turned out for a rally organized by the religious party Jamaat-e-Islami.
Back in Islamabad, Gilani pointed out that Washington didn't help itself when it struck a deal on civilian nuclear cooperation with New Delhi but not Islamabad.
"There is an acute shortage of electricity in Pakistan. And there are riots. And the opposition is playing to the gallery because there is a shortage of electricity," he said.
"But they (the United States) are doing the civilian nuclear deal not with Pakistan, but with India. Now how can I convince my public that they are your (Pakistan's) friends and not the friends of India? … the perception matters."
In a tit-for-tat deal in May, Pakistan inaugurated its second Chinese-made nuclear power reactor. China is building two more reactors at the same site, despite international misgivings about risks to nuclear safety and the integrity of non-proliferation rules.
China has helped build the deep-sea Gwadar port on Pakistan's Arabian Sea coast, partly with a view to opening up an energy and trade corridor from the Gulf to western China, and has been a major supplier of military hardware to Pakistan.

ISLAMABAD (Reuters) – By John Chalmers and Chris Allbritton(Editing by Raju Gopalakrishnan)