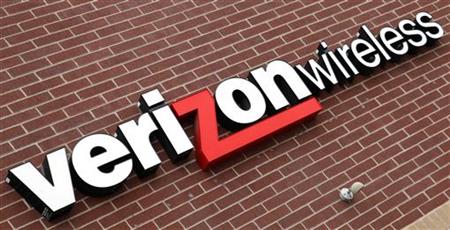 Verizon Wireless, the biggest U.S. mobile provider, has taken a legal stand against Apple Inc's request to ban the sale of some Samsung Electronics Co devices in the United States.
Verizon Wireless said that an injunction would stunt adoption of its high-speed wireless service, which is dependent on consumers being able to buy devices from vendors such as Samsung, which run on its high-speed network.
Apple sued Samsung in California on April 15 asking for a ban of its devices in the United States. Verizon made its filing ahead of an October 13 hearing in the case.
"The requested injunction of certain Samsung products will harm Verizon Wireless and U.S. consumers," Verizon said in a court filing dated September 23.
"It also has the possibility of slowing the deployment of next-generation networks — such as Verizon Wireless's — contrary to the stated goals of the U.S. government," it said.
Apple did not immediately respond to a request for comment. Other U.S. operators such as AT&T Inc, Sprint Nextel and T-Mobile USA did not immediately say whether they also plan to weigh in on the case.
Apple and Samsung have been locked in an acrimonious global battle over smartphone and tablet patents since April. Last month Apple won a symbolic legal victory when a German court upheld a ban on Samsung's local unit selling its Galaxy 10.1 tablets in Europe's biggest economy.
Verizon Wireless is a venture of Verizon Communications Inc and Vodafone Group Plc.
The U.S. case is Apple Inc v. Samsung Electronics Co, Ltd et al, U.S. District Court, Northern District of California, No. 11-1846.
For Apple: Morrison & Foerster; Wilmer Cutler Pickering Hale and Dorr; Taylor & Company Law Offices; Bridges & Mavrakakis. For Samsung: Quinn Emanuel Urquhart & Sullivan.
For Verizon: Bergeson; Kellogg, Huber, Hansen, Todd, Evans & Figel.
(Reuters) -(Reporting by Tarmo Virki in Helsinki and Sinead Carew in New York, editing by Matthew Lewis)