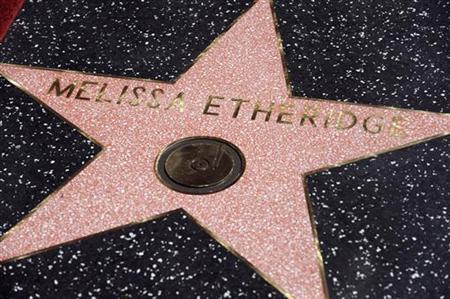 Singer, activist and breast cancer survivor Melissa Etheridge received a star on Hollywood's Walk of Fame on Tuesday, an event she hopes can be an inspiration to anyone facing adversity or dreaming of a better life.
Grammy winner Etheridge, 50, who is known for her fusion of folk-blues rock in hits like "Come to My Window," was greeted by hundreds of fans outside the Hard Rock Cafe in Hollywood as she unveiled her coveted star.
"Let my life be an inspiration to anyone, gay, straight, breast cancer, woman, mother, any human being who receives the inspiration from my story," said Etheridge at the unveiling that took place in conjunction with the launch of a "Pinktober" campaign supporting breast cancer research.
"You can have a dream that you can grown up in a small Midwestern town and believe, and desire, and create a life and end up with a star on the Walk of Fame on Hollywood Boulevard," she said.
The Kansas native has released 10 studio albums over her 25-year career with the multi-platinum 1993 CD, "Yes I Am," garnering chart success and international recognition.
Etheridge, who counts winning the Oscar for "I Need to Wake Up" from the environmental movie "An Inconvenient Truth" and singing with Bruce Springsteen among career highlights, still finds herself surprised with the global success of her songs.
"When I realized that my music was being listened to internationally, it meant so much to me," said Etheridge. "It started to become very obvious to me that music is an international language."
Alongside her music career, Etheridge became a voice for gay rights after publicly coming out as a lesbian in 1993. An active spokeswoman, Etheridge, who was diagnosed with breast cancer in 2004, also became an Artist Ambassador for the Pinktober breast cancer awareness campaign.
Her star on the Walk of Fame marked the official start of this year's Pinktober effort, which will see numerous special events, concerts and limited edition merchandise available at Hard Rock establishments around the world.
LOS ANGELES (Reuters) – (Reporting and Writing by Piya Sinha-Roy; Editing by Bob Tourtellotte)