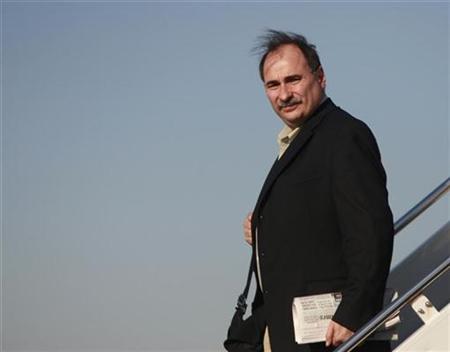 President
Barack Obama
faces a "titanic" struggle to win re-election in 2012 given the persistently high unemployment and bitter partisan battles in
Washington
, his senior campaign advisor said on Tuesday.Strategist
David Axelrod
also warned of a new "Gilded Age" in the
United States
in which special interests can use massive campaign donations to "buy" politicians.
"We have the wind in our face because the American people have the wind in their faces. This is going to be a titanic struggle," Axelrod said, referring to Obama's bid to win re-election in November 2012 against the eventual Republican White House nominee.
Obama's job approval ratings in New Hampshire and elsewhere in the country have slumped this year, bruised by a weak economy and high unemployment.
New Hampshire, a small northeastern state, is due to hold its presidential primary election in February, a key milestone on the road to the election in which Obama is seeking a second four-year term as president.
"No doubt there is some strong headwinds facing us, but we're on the right side of the fight and I believe we're going to win that fight," Axelrod said at a "Politics and Eggs" event at Saint Anselm College in Manchester, New Hampshire.
"And the more I watch the Republicans, the more I believe that," he added.
He said the Republican candidates seeking their party's nomination to face Obama next year are "clinging closely to the Tea Party line" — referring to the conservative political movement — and offering "back to the future bromides" that led to the U.S. economic downturn of recent years.
Obama, a Democrat, plans to remain focused on "the embattled middle class and the sense that in America if you work hard you can get ahead," Axelrod said.
Obama has been battling with congressional Republicans over their demand for deep federal spending cuts and his contention that the richest Americans should pay higher taxes.
Axelrod checked off various ways in which the United States could "mortgage its future" with deep spending cuts.
"If you cut education by 25 percent, as has been proposed, you are mortgaging the future. … If you cut research funds by 70 percent, as has been proposed, you are mortgaging the future," he said.
Axelrod said the electoral landscape in 2012 could be shaped by so-called Super PACS (political action committees) — fundraising organizations that can pour money into U.S. elections — creating a "menacing kind of war game."
Super PACS were made possible by a 2010 U.S. Supreme Court decision that lifted many spending and contribution limits for political donors, including corporations and labor unions.
"I've been concerned about money and politics for a long time. … The risk is to return to a sort of Gilded Age where special interests can buy a congressman or even a president. It's not healthy," he said.
Obama's team will have the resources to combat an anticipated barrage of Super PAC spending in 2012, Axelrod said. "They may not be equal resources to what is arrayed against us, but they will be adequate."
MANCHESTER, New Hampshire (Reuters) – By Ros Krasny