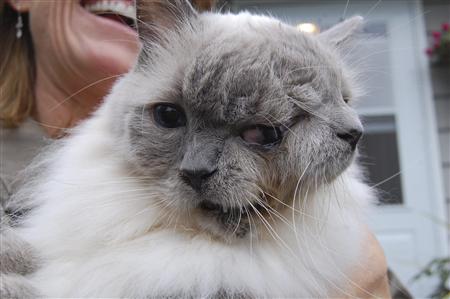 Frank and
Louie
is the world's oldest two-faced cat, which is not to say he is deceitful or insincere.Rather, the fluffy, gray feline with two mouths, two noses and three eyes, turned 12 years old this month, setting the record for "longest surviving Janus cat,"
Sara Wilcox
, a Guinness World Records spokeswoman said on Tuesday.
The name "Janus cat" was coined by British zoologist Dr. Karl Shuker, based on the two-faced Roman god of transitions, gates and doorways.
Frank and Louie has a case of craniofacial duplication, an extremely rare congenital condition resulting from a protein with the odd name of sonic hedgehog homolog (SHH).
The disorder, also known as diprosopia, can cause part or all of an individual's face to be duplicated on its head. It has been recorded multiple times in the domestic cat (Felis catus), but few of the resulting two-faced kittens survive into adulthood, Wilcox said.
Frank and Louie was born on September 8, 1999 and his remarkable life will be commemorated in Guinness World Records' new 2012 edition, Wilcox said.
The cat's owner, a woman only identified as Marty who lives near Worcester, Massachusetts, has asked to remain otherwise anonymous. She was a veterinary technician in 1999 when a day-old, two-faced kitten about the size of her thumb was brought into her clinic to be euthanized.
"The normal life expectancy is one to four days for cats with this condition," because afflicted animals typically have other disorders and defects, Marty told a local radio station on Tuesday. "When he was first born, every day was a blessing."
She immediately adopted Frank and Louie and helped him get surgical procedures necessary for survival, she said.
The cat has one brain, so both faces act in unison. Two of his eyes — the outermost ones — are normal, while the middle eye is larger but doesn't function.
The cat eats on the right side, using Frank's face, which is connected to his esophagus, while Louie's nose twitches at the same time, his owner said. The cat shares a home with a big dog, another cat and a few birds, including a parrot that sings opera.
Marty told the local radio station that Frank and Louie is "actually more like a dog. He walks on a leash and he loves car rides."
CONWAY, Mass (Reuters) – By Zach Howard(Editing by Barbara Goldberg and Greg McCune)