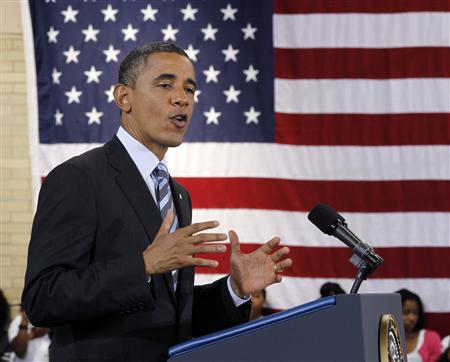 President Barack Obama urged students on Wednesday to pursue learning after high school to brighten the United States' future and restore its preeminence in education.
Obama, who has made education reform a major part of his administration, told students at Benjamin Banneker Academic High School that more than 60 percent of jobs in the next decade would require more than a high school diploma.
"So I want all of you to set a goal to continue your education after high school. And if that means college for you, just getting in isn't enough. You've got to finish," he told about 500 students and teachers at the largely black high-performing school in the nation's capital.
"Our country used to have the world's highest proportion of young people with a college degree. Now we're 16th. That's not good enough. And so we need your generation to bring us back to the top," Obama said in prepared remarks.
"If we do that, you guys will have a brighter future. And so will America," he told listeners, many of them fanning themselves in the sweltering gymnasium.
Flanked by Education Secretary Arne Duncan, Obama urged students to follow the examples of three other U.S. high school students who were already "making their marks." They were:
— Will Kim, of Fremont, California, who has launched a nonprofit organization that gives loans to students who want to start their own businesses;
— Jake Bernstein, 17, from St. Louis, who worked with his sister to launch a website devoted to community service for young people;
— Amy Chyao, of Richardson, Texas, who at 16 discovered a process that uses light to kill cancer cells.
Obama told students to set their sights high and not complain when their parents told them to turn off video games and television and helped them with homework.
WASHINGTON (Reuters) – (Reporting by pool reports and Ian Simpson; Editing by Cynthia Johnston)