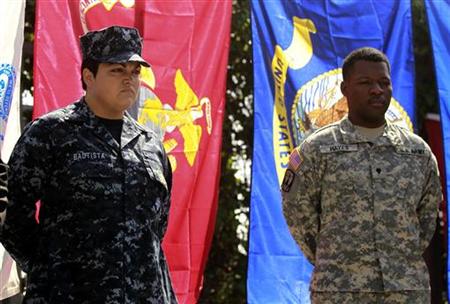 A court ruling that had struck down as unconstitutional the now-defunct law banning gays from serving openly in the U.S. military must be vacated as moot, a federal appeals court decided on Thursday.The decision came nine days after the repeal of the 1993 law known as "Don't Ask, Don't Tell" went into effect, ushering in a new era in the U.S. armed forces in which gay men and women can serve without the threat of being discharged due to their sexual orientation.
The ruling by the 9th U.S. Circuit Court of Appeals denied gay rights advocates an important legal precedent that they had argued should be preserved. A separate, widely watched case over the right to same-sex marriage is also under appeal before the 9th Circuit.
A federal judge in California last year found the "Don't Ask Don't Tell" law unconstitutional in a ruling in a legal challenge filed by a Republican gay group, the Log Cabin Republicans.
Even though Congress had repealed the law since that decision, the Log Cabin Republicans had wanted to keep the lower court ruling in place.
But the appeals court said that the case had became moot upon repeal of the law, and that none of the rulings in the case can be used as legal precedent in other litigation.
"Those now-void legal rulings and factual findings have no precedential, preclusive, or binding effect," the three-judge panel wrote in a unanimous decision.
R. Clarke Cooper, executive director of the Log Cabin Republicans, said the decision leaves open the possibility of future violations of the rights of U.S. service members.
"The court can vacate this ruling, but that does not change the fact that 'Don't Ask, Don't Tell' was unconstitutional," Clarke said in a statement.
In a separate concurrence, 9th Circuit Judge Diarmuid O'Scannlain warned the court not to overreach when it comes to gay rights.
"When judges sacrifice the rule of law to find rights they favor," O'Scannlain wrote, "I fear the people may one day find that their new rights, once proclaimed so boldly, have disappeared because there is no longer a rule of law to protect them."
O'Scannlain, nominated to the bench in the 1980s by Republican President Ronald Reagan, is considered one of the 9th Circuit's most conservative members.
The case in the 9th Circuit is Log Cabin Republicans v. the United States of America, 10-56813.
SAN FRANCISCO (Reuters) – By Dan Levine(Reporting by Dan Levine, Editing by Will Dunham)