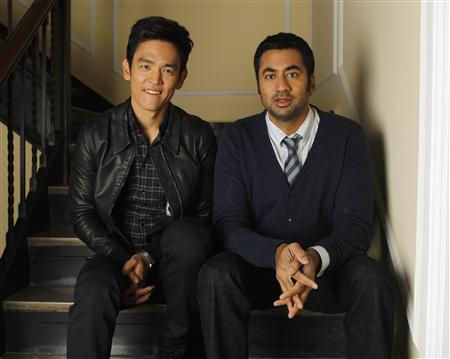 Harold and Kumar return to theaters on Friday in "A Very Harold & Kumar 3D Christmas," the third film in the comedy franchise that includes "Harold & Kumar Go to
White Castle
" and "Harold & Kumar Escape from Guantanamo Bay."This time, the dope-smoking friends — now estranged and each with new sidekicks — reunite to replace a prized Christmas tree Kumar accidentally burned down. While doing so, they get involved with Ukrainian mobsters, a waffle-making robot and a Christmas pageant starring
Neil Patrick Harris
.
Actor Kal Penn, 34, reprises his role as Kumar after taking a sabbatical to work for President Barack Obama in the White House Office of Public Engagement.
He spoke to Reuters about the film, his time away from Hollywood and what he's been doing since coming back.
Q: Why make a Harold and Kumar Christmas movie?
A: "What I love about the 'Harold & Kumar' movies is they aren't stoner movies like 'Cheech & Chong' and 'Pineapple Express.' Compared to them, Harold and Kumar aren't high for most of their movies. So I always view them as a buddy comedy first, which I think gives them liberty to do a Christmas movie, or a Guantanamo Bay movie."
Q: But Christmas movies have very specific holiday themes and don't usually involve characters like Harold and Kumar.
A: "This is a traditional Christmas movie in a lot of ways: there is a lot of heart, it is about friendship more than anything else and about a mysterious package bringing people together. Sure Harold and Kumar are obnoxious and vulgar, but it comes from such a pure-hearted place."
Q: Has President Obama seen the "Harold & Kumar" movies?
A: "I never figured out a good moment to tell the President of the United States that I was a stoner who escaped from Guantanamo Bay. When do you tell him that? Is it after he announces to the world that he took care of Bin Laden … You know what I mean?"
Q: This is your first project since leaving Hollywood for Washington. How did you get lured back?
A: "When I left (the TV series) 'House,' I was going to do a two-year sabbatical in D.C. After I finished my first year, I got a call from the 'Harold & Kumar' producers who said, 'We're doing another movie this summer.' I said, 'I'm on a two-year sabbatical, how about next summer?' But I had a contractual obligation to do the movie when they wanted to do it. So I had to resign from my post to go shoot it."
Q: But you went back to the White House. What happened?
A: "I was only gone for two and a half, three months. When I was done, they still hadn't filled the position (in Washington) with a full-time person, so I reapplied. I told them, 'I made the commitment to serve for two years and I need to finish my additional year.' It ended up working out and I went back and finished. Now I'm acting full time."
Q: Did you leave Washington a changed man?
A: "It does change you as a person. I feel like I've become a lot more patient. Change is not a tweet. You don't just send a tweet and suddenly the world changes. It takes a lot of work, a lot of advocacy."
Q: You consider yourself an Independent, unaffiliated with either major political party. Do you think President Obama got enough done during his one term, or does he deserve another?
A: "If you look at the list of things he accomplished in just three years it's astronomical. The stuff I worked on, like the American Opportunity Tax Credit, the president increased it to $2500. That's $2500 to anyone who wanted to go to college. Then there was the Don't Ask Don't Tell repeal. But there's always more that can be done. There's immigration reform and climate change that he's still trying to advocate for, so yes, I do think he needs more time to accomplish everything."
Q: Where is the future for you, Hollywood or Washington?
A: "I'm on 'How I Met Your Mother' through the end of the year and I'm developing a workplace comedy for NBC. I'd love to do a fourth or fifth 'Harold & Kumar' if it's in the cards. I'm also currently helping with the president's reelection campaign. I hope to still do both."
LOS ANGELES (Reuters) – By Zorianna Kit(Editing by Bob Tourtellotte)