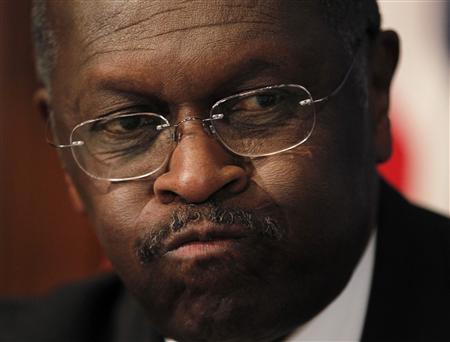 Republican presidential candidate
Herman Cain
said on Wednesday that his opponents are "trying to destroy me" over allegations of sexual harassment that have rocked his 2012 bid.The controversy is threatening to engulf Cain's campaign just as he is leading in many polls of Republican voters who will pick their nominee next year to challenge Democratic President
Barack Obama
in the November 2012 election.
The businessman and former pizza executive has called the allegations false. But one of two women who have accused Cain of harassment when he led the National Restaurant Association in the mid-1990s wants to tell her side of the story.
Cain, speaking to technology executives in a Virginia suburb of Washington, said campaigning goes in phases, first the candidate is ignored, then ridiculed and then "they try to destroy you."
"There are factions that are trying to destroy me as well as this campaign," Cain said.
The New York Times reported that one woman who accused Cain of sexual harassment had been given $35,000, a year's salary, in severance pay in the late 1990s after an encounter with Cain.
The lawyer for a second woman, Joel Bennett, said his client wants to be released from a confidentiality agreement that has barred her from speaking about her interaction with Cain because she feels he has broken the agreement by giving his side of the story.
The lawyer told MSNBC his client was subjected to more than once incident of sexual harassment. Cain has said he told this woman she was about the same height as his wife and that this was taken the wrong way by her.
The National Restaurant Association asked Bennett to contact the organization to discuss the next step. Release of the woman from the agreement could generate a media feeding frenzy that may further distract Cain from his campaign.
WILL CAMPAIGN SURVIVE?
Cain told the technology executives he expects his campaign will survive because of his popular support.
"That's why we're doing as well as we are in this campaign thus far," he said.
A new poll by Quinnipiac University found that Cain, a former CEO of Godfather's Pizza, leads the Republican field with 30 percent, followed by former Massachusetts Governor Mitt Romney with 23 percent, former House of Representatives Speaker Newt Gingrich with 10 percent and Texas Governor Rick Perry at 8 percent.
The poll was conducted largely before the harassment controversy erupted.
On another front, Cain appeared to bungle a foreign policy question in a PBS television interview on Tuesday when he suggested that China was trying to acquire nuclear weapons, which Beijing has in fact possessed since the 1960s.
"They've indicated that they're trying to acquire nuclear capability," Cain said.
On Wednesday, Cain appeared to be trying to correct his statement.
"I see China as a national security threat," he told the technology executives. "They are testing in order to be able to improve their nuclear arsenal."
WASHINGTON (Reuters) – By Patricia Zengerle(Additional reporting by David Morgan, writing by Steve Holland, editing by Will Dunham)