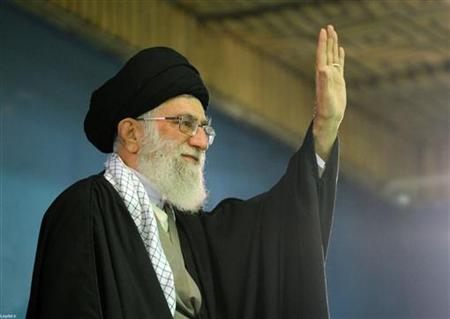 Iran's Supreme Leader Ayatollah Ali Khamenei said on Wednesday he had 100 "undeniable documents" proving the United States has been behind "terrorist acts" in the Islamic state and elsewhere in the Middle East.
His comments come after Washington accused Iran of being involved in a plot to kill Saudi Arabia's ambassador to Washington, a claim Iran has dismissed as baseless.
"We have undeniable documents which show America was behind the curtain of terror in Iran and the region," Khamenei said during a commemoration of the 1979 storming of the U.S. embassy in Tehran by revolutionary students.
"By presenting those 100 documents, we will disgrace America in the world," he added. He did not make it clear when he would produce the documents and to whom.
Last month, the United States said it had uncovered a plot by two men with links to Iran's Revolutionary Guards to assassinate the Saudi envoy by planting a bomb in a Washington restaurant. The Iranian government denies any involvement.
"America tried to exert pressure on Iran and rescue itself from the Wall Street movement and its problems by the absurd terrorist scenario," Khamenei said during a televised address to an audience of students.
"They want to accuse the most virtuous warriors and fighters in Iran of terrorism.
"The course of events have changed in the world and by the grace of God the fight of virtue, with the pioneering of Iran, has started against the pharaoh of hegemony and will continue to its final collapse."
U.S. President Barack Obama hopes the foiled alleged plot will lead to tighter sanctions against Iran — already under several rounds of U.N. measures over its nuclear program — and repeated that all options are on the table to deal with the Islamic republic — a tacit threat of possible military action.
TEHRAN (Reuters) – (Reporting by Hossein Jaseb; Writing by Ramin Mostafavi Editing by Maria Golovnina)