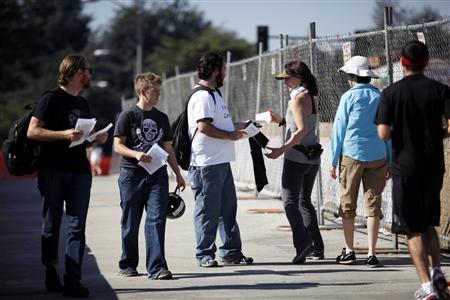 After
Oakland
emerged as a new center for the
Occupy Wall Street
movement — largely because an
Iraq
war veteran was seriously injured in a clash with police — local protest leaders decided on a tactic with a storied history in the city: a general strike.The strike, scheduled for Wednesday, aims to disrupt commerce, with a special focus on banks and other symbols of corporate
America
. Protesters will also try to shut the city's port, one of the nation's largest, in the late afternoon.
Local labor leaders, although generally sympathetic to the Occupy movement, say their contracts prohibit them from proclaiming an official strike. City officials say government offices are scheduled to be open; it's unclear whether many businesses will heed the call to close down for the day.
Craig Merrilees, spokesman for the International Longshoreman Worker's Union, said workers will be on the job at the Port of Oakland. The ILWU is "encouraging members to participate before work, after work, at lunch and during breaks," he said on Tuesday.
Still, the tense relationship between protesters and police, rooted in a series of violent political demonstrations stretching back a decade, has left the city on edge.
Images of tear gas wafting through downtown streets beamed around the world last week after the city dispersed protesters who were trying to reoccupy a makeshift camp near City Hall.
Scott Olsen, a 24-year-old former U.S. Marine who had served two tours in Iraq, was struck in the head during the protests and became a rallying cry for the Occupy Wall Street movement nationwide. He remains in hospital with a brain injury, after his condition was upgraded to fair from serious.
Yet many in Oakland believe it is no accident that street violence has thrust the city into the national spotlight, given a recent history of erratic responses to large demonstrations and a demoralized police department that has a fractious relationship with City Hall.
"This is sort of a perfect storm of dysfunction," Oakland Councilwoman Patricia Kernighan told Reuters this week, acknowledging that she and her fellow elected officials bore some of the blame.
VIOLENT 2003 CLASH
In April 2003, at an anti-war protest at the Port of Oakland, police fired beanbag rounds, wooden dowel bullets and other crowd-control ammunition, injuring protesters and longshoremen going to work.
The New York Times at the time said the clash was "the most violent between protesters and the authorities anywhere in the country since the start of the war in Iraq."
The city eventually paid over $2 million in settlements to injured protesters, and entered into a consent decree governing how the police are supposed to handle crowds.
"They don't seem to learn lessons very well," said Jim Chanin, an attorney for protesters who helped negotiate the decree.
Another major test for the department came in 2009, after transit police shot and killed Oscar Grant, an unarmed African-American man, while he was face down and in custody on a train platform. The memory of Grant has been on vivid display during the Occupy movement; protesters have named the City Hall square "Oscar Grant Plaza."
The Grant shooting, and then a court verdict in which the officer involved was convicted only of involuntary manslaughter, sparked riots and looting in downtown Oakland. The police department sustained heavy criticism for failing to prevent vandalism, Kernighan said.
"Our police department is well aware that there is this very persistent anarchist group that always surfaces in these things and provokes violence, so they kind of gear up for that," she said.
Police are upset, she said, because Mayor Jean Quan opened the plaza to camp sites the day after officers removed them. The police department, which has been forced to cut its ranks dramatically as a result of the city's financial troubles even as a serious crime problem persists, also lost its popular police chief, Anthony Batts, last month. Batts said he resigned because the department was being undermined by City Hall.
Now, city leaders are bracing for another week of demonstrations, featuring Wednesday's strike. Protesters are connecting with the history of general strikes on the West Coast, frequently citing a 1946 action in Oakland where 100,000 workers shut down the city for two days.
While several unions voiced support for strikers this week, they did not call strikes themselves — making a repeat of 1946 all but impossible.
"We will certainly encourage people to participate in whatever way they can," said California Nurses Association spokesman Charles Idelson. Contractually his union — like most others — faces strict rules on calling a strike.
Jean Cohen, political director for the Alameda Labor Council, said it would be a general strike "in spirit." She expected at least 3,000 workers to march on the port in the late afternoon.
On Tuesday morning, singer-songwriter Aaron Daley was in the Occupy Oakland camp, making a protest sign. He said the strike would help gauge the real numbers behind the movement.
"It's either going to keep growing, go viral, or fizzle out," said Daley, 36. "It's gotta go one way or another."

OAKLAND, California (Reuters) – By Dan Levine and Peter Henderson(Editing by Jonathan Weber and Eric Walsh)