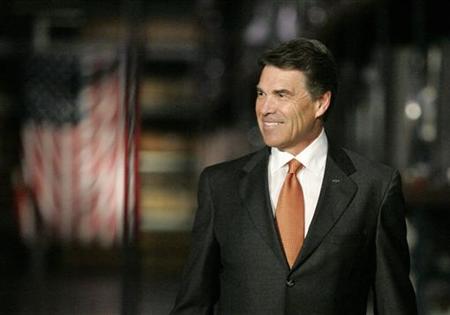 Republican presidential candidate Rick Perry said on Thursday that as president he would support an Israeli air strike on Iran if there is proof Tehran is moving closer to having a nuclear weapon.
"Obviously, we are going to support Israel. And I've said that we will support Israel in every way that we can, whether it's diplomatic, whether it's economic sanctions, whether it's overt or covert operations, up to and including military action," the Texas governor said in an interview on CNN.
"We cannot afford to allow that madman in Iran to get his hands on a nuclear weapon period," Perry added.
A U.N. International Atomic Energy Agency report due next week is expected to unveil new details about the military side of Iran's nuclear program, while stopping short of explicitly saying Tehran is trying to build such weapons. Iran insists its program is for generating electricity.
Perry's campaign has been slipping after swiftly rising to the top of opinion polls when he entered the race for the 2012 Republican presidential nomination in August.
In a wide-ranging interview with CNN, Perry defended his moderate stance on illegal immigration, including an in-state tuition program.
"I put that in the category of being very wise economically. I mean, when you judge are you going to have taxpayers or tax wasters, and that's how Texans looked at it," Perry said.
Illegal immigration is a hot-button issue in the Republican party, and wavering from staunch opposition can lessen chances of success in the fight to become the nominee, as conservative party members play an outsized role in the nomination process.
Perry, who was campaigning in Johnston, Iowa, downplayed his slide in the polls, suggesting that he was not paying a lot of attention to the numbers.
"I know how to run an election, I know how to take the message to the people and that's what we going to keep doing," Perry said. "So, we will stay focused, we will stay on message, and the end of the day, it will all turn out just right."
WASHINGTON (Reuters) – (Reporting by Joanne Allen; editing by Anthony Boadle)