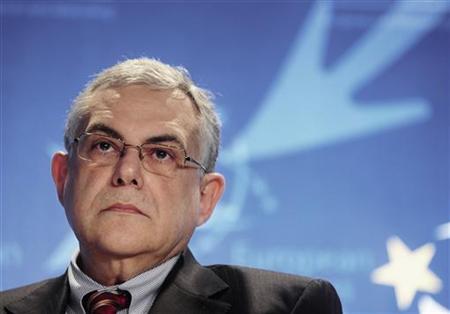 Lucas Papademos
, a former deputy head of the
European Central Bank
, was on Monday tipped to emerge as Greek prime minister as political leaders bargained over who will lead a new coalition to push through a bailout before the country runs out of money in mid-December.But whoever leads the transitional government of national unity will have a monumental task in restoring order to a country whose chaotic economy and politics are shaking international confidence in the entire euro project.
With the European Union demanding a quick resolution to the political crisis, Prime Minister George Papandreou sealed a deal on Sunday with the conservative opposition on the crisis coalition to approve the international financial aid package.
Papandreou informed European leaders, including German Chancellor Angela Merkel and European Commission President Jose Manuel Barroso, by phone on Monday about efforts to form the coalition, his office said.
The Greek leaders' job on Monday was to agree a new prime minister, possibly a technocrat who must exert authority over hardened party chiefs from the center-left and center-right, and made decisions which will affect Greeks for a decade.
Papandreou also spoke to conservative New Democracy party leader Antonis Samaras on the coalition, and his office said more talks would follow later in the day.
In an early sign that a broad compromise will be hard to achieve, President Karolos Papoulias's plan to summon the heads of all leading parties for more negotiations on Monday was dropped after two leftist parties refused to attend.
HANDS FULL
However, the new prime minister will have their hands full merely getting Papandreou's socialist PASOK party and the conservative New Democracy party of Samaras to work together, regardless of whether the leaders join the cabinet.
"I'm afraid the new government will very soon turn out to be problematic," conservative former finance minister Stefanos Manos told Reuters.
"The new prime minister will … not give the impression that he is in charge. Everyone will be looking to the two party leaders who will be running things behind the scenes," he said, adding: "The civil service won't implement any decision and everyone will be waiting for the election."
Papademos, who as Bank of Greece governor oversaw the nation's adoption of the euro in 2002 before moving to the European Central Bank, is a front runner as premier.
"The prime minister had several telephone contacts with Mr Papademos in the last days," a senior government official told reporters.
At least the two parties agreed on the likely life of the coalition, deciding in the early hours of Monday morning that February 19 would be the preferred date — hours before Finance Minister Evangelos Venizelos must explain Greece's plans when he meets his euro zone peers at a meeting in Brussels.
Brussels has piled pressure on Athens to approve the bailout, a last financial lifeline for Greece which faces big debt repayments in December, fearing that its crisis will spill into much bigger euro zone economies such as Italy and Spain — which would be far harder to rescue.
The coalition agreement came after the EU told the parties to explain by Monday evening's Eurogroup meeting how they would form a unity government to secure the 130-billion-euro ($180-billion) funding.
Papandreou, who sealed his fate last week with an attempt to call a referendum on the bailout which backfired, will stand down when the new government takes over.
IMMENSE SUFFERING
Greeks have suffered immensely in the two years that Papandreou has run the country. International lenders have demanded wave after wave of pay and pension cuts, plus tax increases and job losses in return for emergency aid. This has helped to keep Greece in four successive years of recession,
The Communist PAME labor group will hold a rally in Athens on November 10 to oppose a new government which it said "has the task to save the monopolies and crush the popular movement."
"They want to vote through the new bailout… which will leave Greek people with their hands tied for many years."
However, the ESEE retail federation expressed qualified relief that the politicians were coming to terms.
"During these difficult times we express our satisfaction on the political agreement, the consensus and the cooperation so as to save what can be saved in the short time left," it said in a statement on Monday. "We can now hope for something better for Greece and the Greek people both at home and abroad."
Greek bank shares, the country's best benchmark of market sentiment with the government shut out of bond markets, rose 4.3 percent on the coalition deal.
A new coalition would be sworn in and hold a confidence vote within a week, if all went to plan, the government says.
SCEPTICISM ON THE STREET
Many Greeks remained skeptical.
"Are we saved? I don't think so, if nothing is done to stop this practice of slapping more and more taxes because people's pockets will be empty," said Nikos Stratakis, 49, a taxi driver, referring to the two years of austerity.
"Hurrah, we are saved!" said plumber George Vihos sarcastically. "Why should we celebrate now that they will make sure we bear the pain?"
On Sunday European Economic and Monetary Affairs Commissioner Olli Rehn told Reuters that euro zone finance ministers would insist on hearing a plan for a unity government from Venizelos at Monday's Eurogroup meeting.
Papandreou had sought the referendum to show that harsh cuts demanded in the bailout had public support, but the risk that a "no" vote could bring about a sudden bankruptcy caused mayhem in markets and unrest in the ruling party.
He soon ditched the idea and won a confidence vote in parliament, but only after promising to make way for the national unity coalition.

ATHENS (Reuters) – By Lefteris Papadimas and Harry Papachristou(Additional reporting by Rene Maltezou, Dina Kyriakidou, Angeliki Koutantou and George Georgiopoulos; Writing by David Stamp)