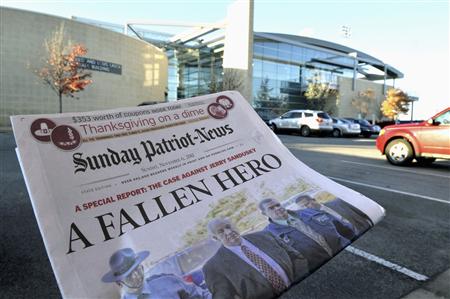 Penn State
's athletic director and a finance official have stepped down from their duties to defend themselves against charges in a high-profile child sex abuse case involving a former football coach.Athletic Director
Tim Curley
has been placed on administrative leave and
Gary Schultz
, interim senior vice president for finance and business, will return to retirement to give themselves time to defend themselves,
Penn State
said in a statement on Monday on its website.
The moves follow an emergency meeting late on Sunday of the university's board of trustees to discuss the child sex abuse charges against former assistant coach Gerald "Jerry" Sandusky.
Sandusky, 67, faces an array of charges involving eight boys, including assaulting at least one in the college team's facilities, according to state prosecutors.
Curley, 57, and Schultz, 62, were charged with failing to report the alleged crimes and with perjury. They are expected to be arraigned on Monday and all three men have denied any wrongdoing.
"The board, along with the entire Penn State family, is shocked and saddened by the allegations involving former assistant coach Jerry Sandusky," Steve Garban, chairman of the trustees, said in the statement.
"Under no circumstances does the university tolerate behavior that would put children at risk, and we are deeply troubled."
Sandusky, who served as defensive coordinator under Penn State coach Joe Paterno, retired from the university in 1999. Paterno, the winningest coach in major college football, has not been charged.
Schultz had been senior vice president of finance and business and treasurer from 1993 until his retirement in 2009. He returned to Penn State in an interim capacity and will go back into retirement.
Senior Associate Athletic Director Mark Sherburne will serve as interim athletic director until Curley's legal situation is resolved.
Because the allegations relate to their responsibilities as university employees, Penn State is paying for the two men's legal counsel, the school has said.
Garban also said the university will appoint a task force to hire outside legal counsel to review Penn State's policies and procedures to protect children.
The task force will publicize the findings, review police reporting and seek to improve training.
Sandusky, who was once considered a likely successor to Paterno, allegedly targeted boys from 1994 to 2009, a grand jury report has said.
Sandusky was arraigned on Saturday and released after posting $100,000 bail. A preliminary hearing is set for Wednesday.
STATE COLLEGE, Pennsylvania (Reuters) – By Ian Simpson(Reporting by Ian Simpson. Editing by Peter Bohan)