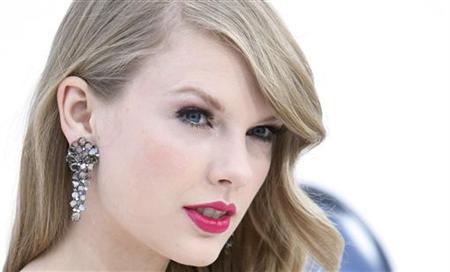 Country music's biggest stars from
Taylor Swift
to
Glen Campbell
are set to shine this Wednesday at the
County Music Association
awards where many will vie for the program's top prizes.Nominated for entertainer of the year are
Brad Paisley
,
Jason Aldean
,
Blake Shelton
,
Keith Urban
and Swift. Fans will see performances from
Faith Hill
,
Martina McBride
,
Eric Church
,
Luke Bryan
and "American Idol" TV singing contest winner Scotty McCreery.
The 45th annual CMA Awards from Nashville's Bridgestone Arena will be co-hosted for the fourth consecutive year by Paisley and Carrie Underwood, a nominee for top female vocalist. The pair will perform their hit single, "Remind Me."
"I will lose a lot of sleep before next Wednesday" preparing for the show, Paisley told Reuters. "I really do get involved, and so does Carrie, in getting this right. The day after the awards I want people to go, 'I can't believe they did that,' about something, and then say, 'but I'm glad they did.' That's the fun part of the awards show.
"It's amazing how strong our format is this year and how amazing the music is. I think there are a lot of great things happening in country music," he added.
Campbell, who is on the final tour of his career after announcing in June he was diagnosed with Alzheimer's disease, will be honored with performances by three of country music's finest guitarists — Vince Gill, Paisley and Urban.
Other collaborations will feature Kenny Chesney and Grace Potter performing their hit "You and Tequila;" Rascal Flatts and Natasha Bedingfield doing their single "Easy;" Lionel Richie singing duets with Little Big Town, Rascal Flatts and Darius Rucker; and Shelton performing a duet on "Footloose" with the song's original singer, Kenny Loggins.
Miranda Lambert, one of last year's big winners, is nominated in two categories, female vocalist and musical event — the latter with two of her idols, Loretta Lynn and Sheryl Crow. The three collaborated on Lynn's hit "Coal Miner's Daughter" for "Coal Miner's Daughter: A Tribute to Loretta Lynn" and on a video.
"Getting to spend that day at Loretta's house with her and Sheryl, visiting with two of my heroes, was a life changing day for me," Lambert told Reuters in a recent interview.
Lambert's husband Blake Shelton is up for seven awards.
Aldean, who is nominated in five categories, told Reuters he was hopeful of having a big night and would be pleased to get the album of the year prize as a reflection of his collaboration with his bandmates and producer.
Awards will be handed out in a dozen categories including male and female vocalist, group, duo, album, video and new artist. Among the award presenters will be Dierks Bentley, Billy Currington, Jake Owen, Kellie Pickler, Reba McEntire and LeAnn Rimes.
The show airs live Wednesday night, starting at 8 p.m. EST on the ABC television network.
NASHVILLE, Tenn (Reuters) – By Vernell Hackett(Editing by Andrew Stern and Bob Tourtellotte)