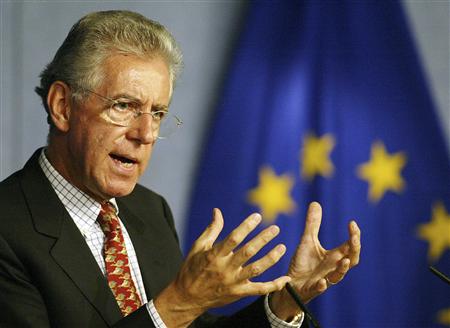 Former European Commissioner
Mario Monti
emerged on Thursday as favorite to replace
Silvio Berlusconi
at the head of an emergency government as
Italy
's politicians rushed to ward off a crisis that is endangering the entire euro zone.Dithering politicians seemed finally to have got the message overnight after
Italy
's borrowing costs soared way above sustainable levels, and Monti was expected to be appointed within days to try to restore
Rome
's credibility.
Even Berlusconi, whose insistence on early elections after he steps down had fueled Wednesday's disastrous day on bond markets, has been persuaded it would be better not to go to the polls now, sources in his ruling PDL party said.
Political sources said the timetable imposed by an alarmed President Giorgio Napolitano could see a broad-based Monti government as early as Sunday night or Monday.
Monti, a highly respected international figure, has been pushed by markets for weeks as the most suitable figure to lead a national unity government that will urgently push through painful austerity measures.
Italy managed to sell 5 billion euros ($6.8 billion) of one-year bonds on Thursday, but had to pay a whopping 6.087 percent interest rate, the highest in 14 years. Nevertheless the successful auction and prospects of a rapid solution to the political stalemate appeared to calm markets.
The spread on interest rates between Italian 10-year bonds and German bunds eased to 529 basis points, still in dangerous territory but significantly below Wednesday's record of 576. Yields dropped below the red line of 7 percent, after reaching more than 7.6 percent on Wednesday.
Both houses of parliament are expected to pass a financial stability law incorporating economic reforms promised to the European Union by Saturday or Sunday. This is the trigger for Berlusconi's resignation as agreed with Napolitano on Tuesday.
NEW SENSE OF URGENCY
Before the new sense of urgency this process was expected to take at least a week. Napolitano could then hold formal consultations with political parties in a few hours instead of the usual days or weeks and appoint Monti by Sunday or Monday, the sources said.
The new government would most probably include respected experts as well as politicians and be supported by a large part of Berlusconi's PDL party, centrists and the biggest opposition force, the Democratic Party, the sources said.
However, they cautioned that the government was not a done deal and the situation could change by the hour. Berlusconi's chief coalition partner, the populist Northern League said it would not back Monti.
However the party, which is split internally, has resisted a key reform on pensions. It may have made a calculation that it would benefit from a period in opposition to redress a sharp loss of popularity from its association with Berlusconi.
In a key development on Thursday, Berlusconi's ruling PDL party softened its insistence on early elections and said it was considering the option of a Monti-led government.
Foreign Minister Franco Frattini, who is loyal to Berlusconi, indicated cautious support. He is tipped to keep his job in a new government.
Napolitano appointed Monti a senator for life on Wednesday, in a move widely seen as a sign he would ask the academic to try to form a government.
Commentators said this effectively made Monti a bona fide politician rather than outsider, with Napolitano sensitive to accusations that a technocrat government would be undemocratic.
IMF head Christine Lagarde added her voice to calls for an end to the impasse, saying that lack of political clarity in Italy was fuelling uncertainty in the markets.
In a highly unusual step, the sober business daily Il Sole 24 Ore carried a huge banner headline reading: "Hurry Up," in a call to Italy's political class to forget their own interests and save the country.
Napolitano tried desperately to calm markets on Wednesday after Italy's borrowing costs reached levels that could close its access to market funding, a development which would threaten the future of the euro zone.
He gave assurances that Berlusconi would honor his pledge to step down after parliament approved reforms geared to placate markets and he would waste no time in either appointing a new government or calling new elections.
Monti, 68, has long been cited as the most likely leader if an emergency executive can gain broad, cross-party support. Such governments have had success in previous crises.
Commentators said, however, that he might still face difficulty getting support for unpopular measures.
Ferruccio de Bortoli described Napolitano's appointment of Monti to the Senate as a "sensational turnaround" in the Corriere della Sera daily on Thursday.
"But the road from here is very much uphill. There are several unknowns," de Bortoli wrote.
Monti, a respected economist who is currently head of Milan's prestigious Bocconi university, is a tough negotiator with a record of taking on powerful corporate interests as European Competition Commissioner. ($1 = 0.736 Euros)

ROME (Reuters) – By Paolo Biondi and Barry Moody(Additional reporting by James Mackenzie, Alberto Sisto, Giselda Vagnoni, Catherine Hornby and Valentina Za in Milan; editing by Elizabeth Piper)