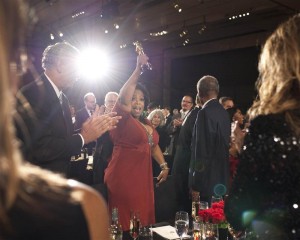 Oprah Winfrey
received an honorary Oscar for her charitable work on Saturday in what she called an unimaginable moment for a black woman who grew up poor in
Mississippi
and rose to the top of Hollywood stardom.The
Academy of Motion Picture Arts and Sciences
annually bestows its Governors Awards on people who have made an impact in the industry. This year, the honorary Oscars went to Winfrey, actor
James Earl Jones
and makeup artist
Dick Smith
at a black-tie affair that brought out stars such as
John Travolta
,
Glenn Close
and
Alec Baldwin
.
Talk show host and film actress Winfrey, who was nominated for a supporting-actress Academy Award in 1985's "The Color Purple," was given a Jean Hersholt Humanitarian Award by a young woman who was sent through high school on a financial grant she earned from Winfrey's foundation.
Winfrey teared up when accepting her honorary Oscar and described the moment as "unimaginable" given her humble roots growing up in Mississippi.
"All of us can make a difference through the life we lead," Winfrey said. "We're all here to help each other."
She talked of her career as a TV chat show host and her movie work, and said it was "The Color Purple" that paved the way to stardom which, ultimately, led to philanthropy.
That movie "door opened to me through the magic and majesty of film," she said.
James Earl Jones was given his honorary Oscar for a body of acting work that ranges from his Academy Award-nominated performance as a boxer in "The Great White Hope" to voicing the role of the villainous Darth Vader in the "Star Wars" movies.
Jones was not on hand because he is in working in London, but he spoke to the Los Angeles audience in a speech that was taped earlier on Saturday.
He said he was "deeply honored, mighty grateful and just plain gobsmacked," using British slang for being astounded.
Finally, the "Godfather of makeup" Dick Simon was given an honorary Oscar for his behind-the-scenes work using makeup and prosthetics to make actors look old, young, sick, dying and dead in films ranging from "The Exorcist" to "The Godfather."
Simon gave a tearful and heartfelt acceptance speech in which he said he has loved every minute of his work in the movie business. "This kind of puts the crowning cap on all that," Simon said.
The Oscars, or Academy Awards, for the films of 2011 will be given out in a ceremony in Los Angeles on February 26.
LOS ANGELES (Reuters) – By Bob Tourtellotte(Editing by Will Dunham)