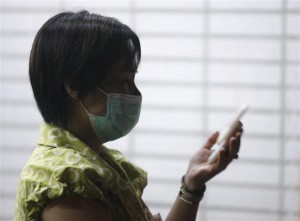 Mobile technologies
will be increasingly deployed to enable people in
Asia
to monitor and manage their health, with the market expected to hit $7 billion by 2017, an industry official said.In parts of
Europe
and the
United States
, diabetics can now have doctors monitor their blood sugar levels by punching daily readings into their
mobile phones
and doctors can provide answers to expectant mothers via short message services (
SMS
).
Jeanine Vos, who heads the mobile health unit at Global System for Mobile Communications Association (GSMA), said such technologies are finding their way into Asia.
GSMA represents nearly 800 mobile operators around the world and 200 other mobile-related companies such as handset makers, software, media and Internet companies.
"We foresee that market opportunities can reach $7 billion by 2017 (from under $500 million now)…We are really at the start of a take-off," Vos told Reuters in an interview.
The figures were derived from a study conducted by GSMA and PricewaterhouseCoopers and will be released in full in December. Fifty-five percent of that amount would involve health monitoring services and 24 percent, diagnostic services.
Companies that stand to gain from the expansion of mobile technologies for healthcare purposes include mobile operators, device manufacturers, software developers and healthcare providers, Vos said.
Companies already providing such services include France Telecom's Orange, Japan's NTT Docomo and India's Apollo Hospitals.
CONVINCING GOVERNMENTS
China, with nearly 5 billion connected devices by 2020, would be a key driver of this growth, she added.
Vos said mobile applications can be used in many parts of Asia to help doctors make diagnoses and monitor patients with chronic illnesses, such as diabetes and heart disease. She also saw demand for tracking devices that can be worn by Alzheimer's disease patients.
"For Alzheimer's disease patients, they can be followed around the city and people can also contact emergency services, call the call center…solutions that help the elderly live independently for longer in their own homes," she said.
Between 10 and 30 percent of people over the age of 70 suffer from Alzheimer's, a disease that robs them of their memory, thinking and ability to handle simple daily activities. Patients often get lost if left alone.
However, there are impediments in getting such technologies adopted in the region and one of them is convincing governments and clinicians.
"The healthcare challenges and needs are highly diverse across the region. A key challenge is … in (achieving) adoption by governments and medical professionals," Vos said.
"To reach scale and adoption, what will be important is that governments and regulators across the region promote policies that enable healthcare reform to be supported by mobile technologies."
HONG KONG (Reuters) – By Tan Ee Lyn(Editing by Vinu Pilakkott)