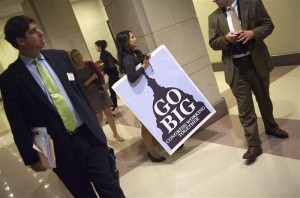 Budget talks in the
Congress
were locked in stalemate on Wednesday amid the disclosure of a Democratic offer last week that drew no Republican interest.With a deadline less than a week away, members of a 12-member "super committee" tasked with finding $1.2 trillion in budget savings over 10 years confronted the same barriers that have thwarted earlier efforts to rein in the growing national debt, which crossed the $15 trillion mark on Tuesday.
Aides with knowledge of the negotiations said Democrats, in an attempt to break the deadlock, offered to embrace some Republican proposals including about $876 billion in new spending cuts coupled with about $400 billion in tax revenues through individual and corporate tax reform.
That represents a considerable shift from an earlier Democratic proposal that sought about $1 trillion in new tax revenues.
The proposed spending cuts would contain $275 billion in savings from healthcare entitlement savings including the Medicare health-insurance plan for the elderly, according to several high-level congressional aides.
The Democratic counter-offer called for no increase in the eligibility age for Medicare or changes in inflation adjustments for retirement benefits, the aides said. At the same time, it sought money for job-creating economic stimulus.
The measure would not make permanent the Bush-era across-the-board tax cuts that are due to expire next year, the aides said.
Republicans, who have moved from their staunch opposition to tax increases, were not impressed by the Democratic offer.
Republicans said they would not give any more ground until Democrats consider reforms that would partially privatize Medicare.
"I'm still waiting for a proposal that actually solves the spending crisis," the panel's top Republican, Representative Jeb Hensarling, told Reuters.
A Republican aide said the latest Democratic proposal, made on Friday, was a step backward and that it was nothing more than a "repackaged" version of an earlier offer that had been rejected by Republicans.
Democrats have rejected an earlier Republican proposal that would have reduced the top income tax rate to 28 percent from 35 percent and are insisting publicly that tax increases for the wealthy be part of the package.
"We are not going to accept a plan that gives tax breaks to the wealthiest Americans and balances all this incredible challenge we have on the backs of middle class Americans," said Senator Patty Murray, the top Democrat on the committee.
Despite the posturing, negotiations continued behind the scenes. Many veterans of congressional negotiations predict that any deal will fall into place just hours before it has to be publicly posted on Monday in order to meet a November 23 deadline for a vote by the six Democrats and six Republicans on the panel.
SOME URGE PANEL TO GO BIG
As negotiators grappled, some 50 lawmakers from both parties urged them to shoot for a much bigger deal that would come closer to the $4 trillion in savings that outside experts say is needed to keep U.S. debt at a manageable level.
"This is about more than money. It's about whether the president and Congress can competently govern," said Senator Lamar Alexander, the No. 3 Republican in the Senate.
A deal of that magnitude would almost certainly require substantial tax increases and spending cuts, angering interest groups on both sides as the 2012 election season heats up.
Interest groups like Americans for Tax Reform and the seniors' group AARP have mobilized to protect their turf, while the healthcare and defense industries are lobbying furiously to minimize the impact of any cuts.
One group came to Capitol Hill to say it was willing to sacrifice. About two dozen wealthy individuals, including several former officials at Google Inc, testified at a hearing and told reporters they were willing to pay more income taxes.
"Our country has been good to us. It provided a foundation through which we could succeed. Now, we want to do our part to keep that foundation strong so that others can succeed as we have," the Patriotic Millionaires for Fiscal Strength wrote in a letter signed by 138 group members to President Barack Obama and congressional leaders.
Failure by the super committee to reach a deal would trigger $1.2 trillion in automatic spending cuts that would fall equally on military and domestic programs. Republicans appear to be more alarmed by that prospect than Democrats, and some have proposed shifting the balance to ease the blow to the Pentagon.
Republicans also worry that Obama could allow taxes on the wealthy to rise at the end of 2012 if they don't agree to a permanent overhaul of the tax code by then.
Congress has until December 23 to approve any deal that emerges from the super committee. Failure to so could further anger a public that has been rattled by repeated budget showdowns this year, and prompt investors to question whether Washington has the willpower to make tough fiscal choices at a time when sovereign debt burdens in Greece, Italy and other countries are rattling world financial markets.
It could also make it harder for Congress to sign off on a number of expiring provisions, such as a payroll tax cut and enhanced jobless benefits, that could slow economic growth if they are allowed to lapse.

WASHINGTON (Reuters) – By Richard Cowan and Donna Smith(Additional reporting by Thomas Ferraro, Susan Cornwell, Andy Sullivan and Rachelle Younglai; writing by Andy Sullivan; editing by Cynthia Osterman and Mohammad Zargham)