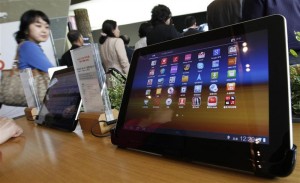 Samsung Electronics said on Thursday that it would launch a redesigned version of its 10.1-inch Galaxy Tab model in Germany as early as this week to avoid a sales ban on the tablet, which a German court said violated Apple's patents.
For sales in Germany Samsung changed the design of the frame of the Galaxy Tab 10.1 model and the location of its speaker, and renamed it the "Galaxy Tab 10.1 N," a Samsung Electronics spokesman said.
"We modified the model to reflect Apple's claims," the spokesman said.
Apple and Samsung have been engaged in a legal battle worldwide since Apple sued Samsung in the United States in April, saying the South Korean company's Galaxy line of mobile phones and tablets "slavishly" copied the iPhone and iPad.
Apple has scored preliminary injunctions against some Samsung products in Germany, Australia and the Netherlands, and further seeks to block sales of Samsung models in the United States, the key battleground for smarpthones and tablet PCs.
Last month, Samsung was also forced to upgrade three of its smartphones to get around temporary sales bans on earlier versions of products that a Dutch court said violated an Apple patent.
An Australian court agreed to fast-track Samsung Electronics' appeal against a ban on the sale of its new Galaxy tablet computer in the country.
Samsung Electronics last month filed for sales bans on Apple Inc's iPhone 4S in Australia and Japan, following similar moves in France and Italy.
SEOUL (Reuters) – (Reporting by Hyunjoo Jin; Editing by Jonathan Hopfner)